How Much Does it Cost to Light Christmas Lights?
A few blocks north, I was invited to measure the electricity of Alicia's house. Alicia lives in Elmhurst on one of those streets where every house gets into the act, decking their houses with lights.
The sidewalk in front of her house was framed with three archways, each burning about 50 watts. These hoops have dedicated junction boxes which pop up out of the lawn.
Her low bushes were draped with light nets, which were occupied by some illuminated reindeer. Electricity use for the arches and the lawn lights totaled 630 watts, or about 8¢ per hour.
At my house, I finally got my own lights up, hanging three strings of these multi-colored incandescent globe lights.
These 100 globe lights use 362 watts, or about 4¢ per hour. I use a timer on them, so they are only lit at night.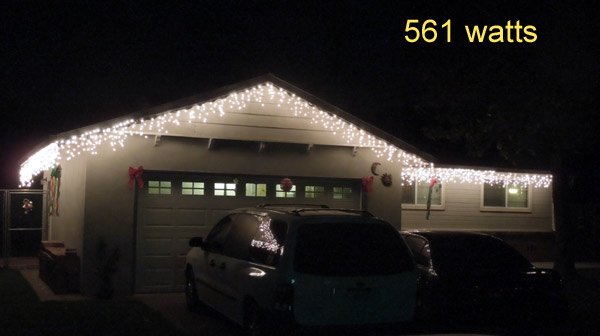 My neighbor Jesus has icicle lights around the eaves of his house, including both sides. They use 561 watts, which costs about 6¢ per hour.
Rick, another neighbor, loves christmas lights. He also loves the Green Bay Packers. His display uses 1,239 watts, which costs about 15¢ per hour.
The photo above shows Meaghan's house. She picked up four sets of white LED lights on after-christmas clearance last year. They don't use much electricity, a total of just 13 watts, which costs about 1/10th of a cent per hour.
I've driven by Leif's house for years. He lives, coincedentally, on Watt avenue. He's got an inflated Santa and snowman figure, lights on his lawn, his eaves, his roof, his gate and his fence. The display is set to music. The lights on the roof cycle through a program, lighting up different strings in a sequence. It is an extraordinary Christmas display, and it uses 2,135 watts.
2,135 watts cost about 26¢ per hour.
Conclusion
Christmas lights are cheap to operate. If you have a normal house, decorated with mini lights, you are paying less than 10¢ per hour to power them. If you are using LED lights, you are paying less than 1¢ per hour.
For me, the main drawback to Christmas lights is the time it takes to put them up and take them down at the beginning and end of the holiday season.
As long as the price to power the lights is less than about $1 per hour, I think I will keep using them.
page 1 | page 2 | page 3
Related articles on Cockeyed.com: