In hopes of creating an interesting visual effect for future parties, I aimed my toy video projector onto a disco ball.
Part of the appeal of a disco ball is that can be difficult to discern exactly what is happening when the ball is lighting a room. The closely-packed mirrors break up a single beam of light, and spray it all over.
It's a simple device which creates an extremely complex display.
I was curious what the effect would be if I used a video projector instead of a standard spotlight. I had no idea if I'd be able to see the movie as the ball rotated. If I could, I would be remarkably close to creating the world's first four dimentional television.
Long a fan of the Jakks Pacific line of Eyeclops toys, I had their portable video projector.
I had also purchased an RCA video cable for my iphone, enabling me to project YouTube videos from my phone.


So, I was completely portable, armed with a $99 toy projector. Here's a shot of the image quality, projected onto the door of our "Abstrakt" Ikea kitchen cabinet.

I used The Sounds Painted by Numbers video for my experiments.
The mirror facets scatter the light like a concave lens. Upon striking the ball, my projected image, like a spotlight, is reflected and scattered.
The unfortunate result is that the broken image was too scattered for my brain to reassemble. Each reflection was only a half-inch square, four inches from each of its neighbors.

A single bit of the reflected image is enlarged above.
Note the red, yellow, blue and green outlines of this portion. Those colors aren't part of the video, and they are visible on every part of the reflected image. My first thought was that this color frame is caused by chromatic abberation, but it probably is just a glimpse into the arrangement of the colored LEDs inside the projector.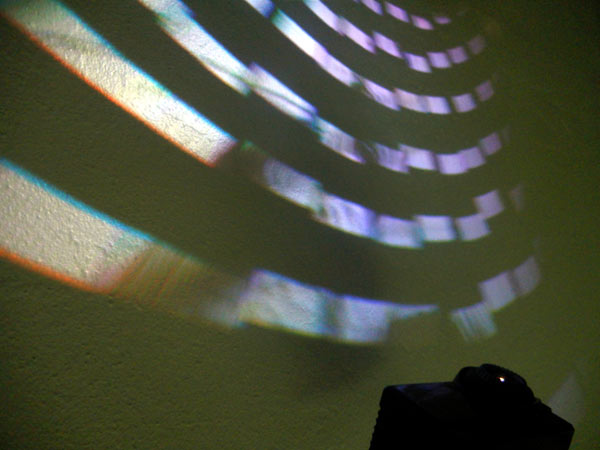 Spinning the disco ball helped. The spinning created a unified band of the image, although the bands were still several inches away from each other. It was interesting, but it wasn't awesome.

Disco balls are incredible. They are so simple: a ball covered in mirrors. They literally could have been invented 200 years ago. It was irresistable to me to try to extend their effect into the age of the cheap video projector, but the truth is, the results using a video projector aren't much better than using a plain red spotlight.
Sometimes awesome plus awesome results in awesome squared. This was not one of those times.
I guess I'm going back to my lab at the roller disco.