History
Sometime in 1997 I started learning HTML. I quickly figured out that the best way to make an interesting website was to include piles of graphics and images.  I grinded through Photoshop tutorials and put together a website on Geocities.
That old Geocities site was catalogued into Yahoo in 1998. I negotiated a visit to their headquarters in April of that year, carting along the the paper mache Elvis.
In August 1998 I invested in a digital camera. Photos are now the heart of cockeyed.com. There are a hell of a lot of photos.
One night, after realizing I had outgrown Geocities, I spent four hours looking through the dictionary for a clever domain name. Cockeyed was the best one available.
I hosted it at Tomatoweb in Sacramento for about two years, then moved to DB-Wired when I added a database and some PHP scripting. DB-Wired was pretty good, except for the odd day when internet powerhouses like Metafilter, Notaciaslocas or Slashdot linked to me. Then I was screwed.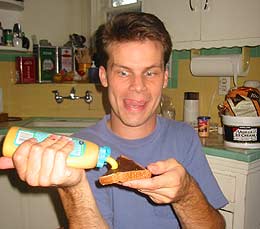 I designed a wild Flash navigation dashboard in 2000, but removed it a few months later. I myself found it annoying, so I figure most other people did too. At least I didn't make a Flash introduction screen, right?

In June of 2001, I found my first international review online, written in Hebrew at ynet.co.il (Israel). They had a little graphic of me with whipped cream, but I have no idea what the review said. Tons more have linked since then. Bless them!
I've recruited pretty much everyone I know to appear in some kind of episode but one of my best friends isn't in any (Ken). You can read about your favorite personality on the Staff Page. Many of them are available for interviews, but keep in mind, they can be feisty!
In August of 2002, my hosting bill was poised to reach $100/month, so I asked Tim at Fatwallet, sponsor of "how much is inside a million dollars" to host cockeyed.com in exchange for some tasteful links. He agreed.
Two months later, Atlantic Inkjet asked me to place a banner ad on the "refilling an ink cartridge" page. The process of "selling out" had begun.
Unfortunately, I had a hard time collecting the money.
After 6 successful years at Fatwallet, I got a great offer for hosting here in Sacramento, opening up possiblilities with easy access to a MySQL database.
Personal Information
I am the third of five children in the Cockerham family.
My interests include: Styrofoam sculpture, electronics, bicycling, law, economics, design, photography, advertising, pranks and orienteering.
I attended high school in Sacramento, CA and graduated from U.C. Santa Barbara in 1992 with a B.A. I now live near Arden Park in Sacramento.
I've worked doing internet tech support for MCI, as a graphic designer for iConvention, for Blue Moon Printing, EDS and Hewlett Packard. My latest job was as a web developer contractor at Intel.
I feel my strongest traits are 1) my overall knowledge of material handling and properties, 2) an unnatural ability to complete projects and 3) a good sense of humor through good times and hard times. Oh, and one more, I don't mind asking basic questions.

If you liked any of this stuff, or have valuable suggestions, project proposals or lawsuits pending against me, please email me.
Each e-mail I receive is like a fresh flower, so please write...others have!
At the end of February, 2001, Holly Forman asked if she could send me some questions. She sent 300.

I was interviewed by Melissa Block at "All Things Considered" on NPR in 2003.
I was interviewed and appeared on 20/20 in 2005.

Oh, and two other things, I'd love to get to fly in a helicopter and I'd love to meet Janeane Garofalo totally got to meet Janeane Garofalo. 


More Photos
Skillset
I learned HTML a long time ago, and I use it almost every day. I wrote all of the 700 pages on Cockeyed.com, and edit the code for every story and article.
CSS
I used CSS for a long time before I really understood it. Now I can use it fluently and look back with regret at all the time I spent building stuff in neat little handcoded tables. It is almost better that I learned so late, so that CSS3 is fully developed and accepted across the modern browsers.
MySQL
After a friend described my site as the best site that "doesn't do anything", I realized I needed to add server interactivity to the site, so I implemented php and started using MySQL databases. My most ambitious database project is the Television Ad Database, or
TVADDB.com
. I wanted to catalog every television commercial in the same way that IMDB catalogs every movie (and now every television show and video game). I take pride in producing a rich experience for the admin tools as well as the presentation that the end user is going to see.
Php
Php was my first programming language, and I love it. I've always been willing to set up and hardcode projects, but life is so much easier when you can do things programmatically. After spending many weekends creating and editing the Height Weight Chart, I set up my next project, the
Smokers vs. Non-smokers Age Chart
with an automated menu system. Now I just add individuals to the project and the menus and sub-menus are updated automatically.
JavaScript
I have experience with Javascript as well, and essential element to active webpages. Once I began coding for responsive web design, I needed JavaScript for collapsing menus and manipulating the Document Object Model.
jQuery
Grim project,
the Casualties Visualization Tool
I also used JQuery in a
sliding, interactive hiring tool at Intel
.
Engagement and Participation
My most successful project is
the photographic height weight chart
. I set up a matrix for photos of every type of body and prompted visitors to send in photos of their own bodies to fill in the blank spots. It's a hit! It now features hundreds of bodies and 1,000 pictures, from 4'10" and 90 lbs. to 6'8" and 380 lbs. I've also garnered great support for crowdsourced pranks, such as the
TGIFridays menu prank
and the
Costco prank
.
Google Analytics
With hundreds of popular articles live on the web, I use Google Analytics to reveal the browsing habits of millions of readers. I also used Google Analytics to study the flow of visitors to Intel's staffing web pages (but it wasn't nearly as interesting).
Wordpress
While Cockeyed.com isn't built on Wordpress, I recognize that using some modern content management system is the smart way to start and run a site in 2016. I've helped businesses and individuals set up their sites on Adobe Experience Manager (AEM), Wordpress and Concrete5. They are usually designed for beginners, so I'm sure I'd have no problem working with Drupal or Joomla, Movable Type, etc.
Photoshop
The thing about Photoshop is that you don't know that you aren't an expert at Photoshop until you meet an expert at Photoshop. I take pride in my ability to improve and re-work any image into one best suited for the web, and I'm comfortable writing scripts and running batch processes for large projects.
Illustration
Perhaps more valuable than Photoshop, the ability to create original graphics is a vital part of web development. I've crafted a million icons, and love clear, uncluttered maps so much I started a
wedding invitation map
side project.