Easy, Illustrated Instructions on How to Fix Dull, Faded, Weathered Headlights on Older Cars
Unfortunately, I didn't get far. My cordless drill died. Unfazed, I borrowed a corded drill at my parents' house and continued the job. Dragging an extension cord out was added labor, but this corded drill was much faster and more powerful. I was polishing the hell out of this headlight, and it immediately started clearing up.
It looked great! After about four minutes of polishing, the first lens looked awesome, crystal clear and like new. What a rewarding process!
Check.
It.
Out.
When you improve something this much with just a few minutes work, it is incredibly satisfying.
The other headlight was just as easy, with one more dime-sized dollop of polishing compound and four minutes of polishing. Shazam! Man, what a difference! I used light to medium pressure against the headlight, and just a little bit of water sprayed onto the surface when the operation started to dry out.



I had the equipment out, so I offered to restore the lenses on my parents' Toyota Truck, which they accepted.
I didn't want to detach the black polishing sponge from the drill adapter. I didn't think the pad adhesive would stick again if I removed it to swap to the second resurfacing pad, and I didn't want to leave my parents' headlights in a "resurfaced but not polished" state.
On a hunch, I decided to skip the first (resurfacing) step and to simply charge ahead with polishing only. In fact, I decided to try polishing compound on one headlight, and toothpaste on the other one.
It worked, with nearly identical results. The dullness was gone in one step when I just polished with the black pad and polishing compound. It took about five minutes.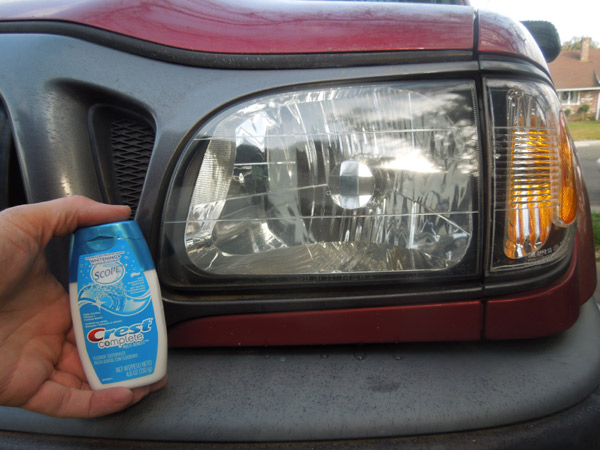 And, what a surprise, the toothpaste worked just as well. This Crest Complete toothpaste has no discernable grit to it, so I felt confident rubbing a little into the plastic headlight lens. It completely cleared the fog. Both Toyota headlights looked great!
Summary
If you have white, foggy headlights, you should definitely consider doing this yourself. It was very easy and vastly improves the beauty of the car's exterior. This is a cliche, but it takes years off of the apparent age of the car.
Considering the same effect is achievable using ordinary toothpaste, did I waste $10 on a headlight restoration kit? I don't think so. The small-diameter drill buffing adapter was alone worth the price. Without it, I'd probably still be out there, brushing my headlights with my Sonicare.