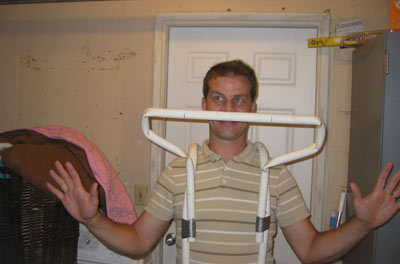 Next I added a support bracket for the front and a giant rectangle surrounding the whole thing with the final size I needed.
Finally I added a rear support bar and screwed the whole thing together.
Walking around with this lightweight, well-balanced rig, the potential struck me. I could build up a massive structure on top of this. I could drop a skirt around it, anything.
Unfortunately, the main rectangle needed to be a bit higher, just below my eyes, so I re-bent the rear bracket and moved the screws on the front. I also added a little foam padding to the shoulder yoke.
Success!
Next I started building two low boxes for the main structure of the costume. Luckily I had sequestered two giant John McCain for President corrugated plastic signs last year. Corrugated plastic is perfect for costume construction because it is very flat, light and strong. It would probably cost a fortune if I ever tried to buy it, but there is usually an ample supply poking out of vacant lots advertising Real Estate Investor Seeks Apprentice, or We buy Houses for CASH.
I think it might even be lighter than cardboard.
I marked out the final shape with a sharpie and cut it with a utility knife. I wanted a box, so in some places I just cut halfway through and bent the sheet into corners. I used hot glue to cement the pieces together.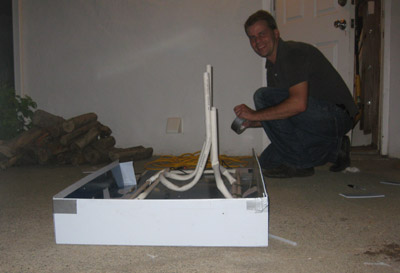 The hot glue wasn't holding well enough in all the corners, so I used zip-ties and duct tape to reinforce the assembly.
The construction was pretty sloppy in places, but all of this will be covered in paper mache, so it didn't have to be attractive.
At this stage it looks like a "last supper" costume or a banquet scene from Temple of Doom. Maybe I should just set up a trainset to go around my head.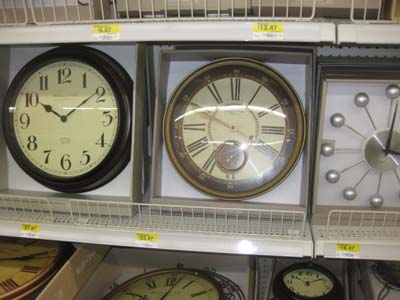 Besides building, I also kept an eye out for parts. I needed two clear domes, each 15" in diameter. They were probably going to end up being $40 each, but I had lots of time so I checked every other resource before I actually bought anything.
I looked at bowls at Target and the 99 cent store, light fixtures at Home Depot, security camera housings on ebay, round skylight lenses at the round skylight store, and serving trays at the restaurant supply.
1
2
3
4
5
6
7
8
9
10