In addition to the fake testimonial pages, a crop of fake news websites are also directing people to the google cash scheme.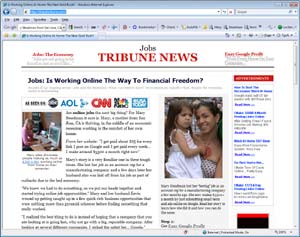 The Addresses for the newspapers above:
http://www.detroit-tribune-news.com/
http://thenewyorktimesonline.net/
http://usajobjournal.com/job.php?arid=3A098937
http://seattlechroniclenews.com/
http://theorlandotimes.com/?cat=5
http://thejobtribune.com/
http://fremontgazette.com/?t202id=44826&t202kw=asn_ab_1
http://thewashingtondctribune.com/
http://seattlegazettenews.com/
The article at workathometruth.com lists 43 more faux newspaper sites like the ones above.
Summary
And that's it! I didn't order the Google Cash Kit (Not affiliated with Google), but common sense tells me that if a company has to fake their testimonials, it isn't worth doing business with. Thank you, and I'll see you at Costco!
Kevin Barbequing at Costco | Automatic Billing | 100 faces of Kevin | Other Errors | Fake News Sites