Sam's Club Prank - Chris' Story
Rob,
Mission accomplished.
It was a mad house today with all the people fighting over free samples, but that was to my favor. Everyone was so busy, that it was a piece of cake. The only hard part was the Polo Assless Chaps, since our Sam's hangs the prices above the items. But none the less, I found a display right next to the main aisle of the clothing to place it. It should be seen very easily. The canine pacemaker kit was placed right with the dog toys and dog biscuits.

CANINE/FELINE PACEMAKER KIT - $319.99
I named the picture files so you could easily identify them. Only when I got home, I found out that my camera phone was a bit blurry of Agent Hotwing. The picture named hidden signage was how I transported the tags into Sam's, and the picture practicing the plant was how I delivered them. I just placed them behind my notebook and leaned up against the rack. Easy stuff.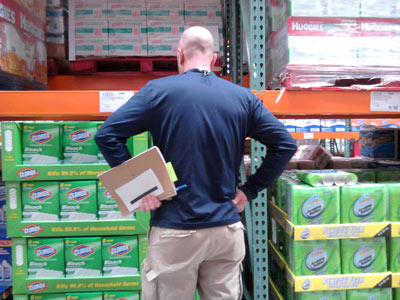 BTW, my daughter was trying to act like a confused customer in the picture I took. If you need more details let me know.

Chris "Agent Smoked Ribs" and Paige "Agent Hotwing"

POLO CHAPS ASSLESS - $119.99

Click on one of the links below!
back to Sam's Club Prank Introduction