Part 1 | 2 | 3 - How to Fix a Fence - How Fences Break - How to Fix a Gate

This fence had a little hole, with a decorative iron fence behind. It took me a few minutes to realize this was to give their dog a good view of the yard. Sometimes people cut long slices out of the middle of a few individual pickets, so that the structure of the fence remains strong.
I think those are called keyhole cuts.

A round hole would also look good, or one shaped like a dog's head.
This looked like re-used flooring.
Here's a low fence with a saw-tooth pattern. It was falling apart but I bet it looked pretty sharp when it was new.



An old wooden fence around a house next to a schoolyard. Note the concrete footing to keep the top level and the triple row of barbed wire to keep victims inside.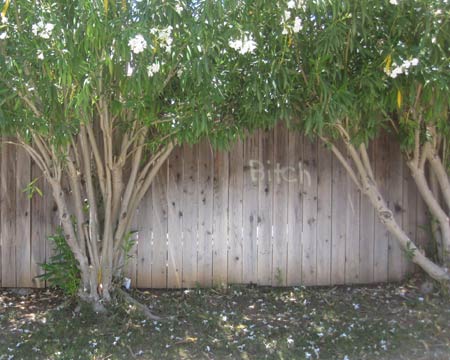 Sometimes fences and trees are used together to create a nice barrier.

Bitch.
I've included a picture of this wall just because it is so terrible. Note that there is also a wooden fence close to the actual house.

These concrete piers keep the wooden posts away from the dirt, but they are not very attractive in my opinion.
A larger dog window. If you have one of these you don't even need a real dog.
Arched fence board pattern with decorative post caps.


Fence up a slope. Note that the gate is hinged on the downhill side so that the gate can open outwards without dragging on the soil.

This is what it looks like if you don't cut off the top of your fence posts.
This fence had a two rows of pickets, the back set three feet higher than the front, like a row of shark teeth.
Horizontal pickets!
Another 45 degree fence turn combined with a well-fashioned cap.
Fence down a hill. The top of the pickets looks like a perfect slope.
If the ground slope was inconsistent, they might have had to trim the boards to get this to work.


An inconsistent wave pattern.
Fence with lattice top on a steep slope.
The fence is so tall and fancy that the simple gate looks odd.
Note the dog window.

A sturdy box spring can be used to replace missing pickets in a pinch.