The first time I noticed the Walmart "Unbeatable" signs, I was skeptical.
About four weeks ago, they had big "Unbeatable" price tags above a cold case full of gallon milk jugs.
The price was good, and I couldn't swear that I had seen a lower price somewhere else, but I had a sneaking suspicion that I had.
It begged to be tested. Unbeatable is a pretty tall claim. To me, saying that a price is unbeatable means that no other retail outlet can have a lower price.
Could that possibly be true? How could Walmart even know? Did they really check everywhere that sells milk? Of course not.
Come to think of it, is anything unbeatable? Even Rocky loses occasionally.
After some thought, I could only come up with two things which are unbeatable: Banzuke and the 1972 Dolphins.
On Tuesday, at lunch, I made a quick tour around Walmart on Folsom Boulvard in Sacramento.
I made note of the prices on 20 different items, each of their prices marked "Unbeatable".
For a real price comparison, I should have decided on a shopping list before I entered the store, but this was different. All I had to do was find one price which was lower, and the "Unbeatable" claim would be disproven.

I took photos of a few items, and took notes of their prices.
An attractive Walmart employee, who appeared to be a manager, noticed that I was taking notes at a display of Swiffer Sweeper refills. We had a fun conversation:
Walmart Manager: Can I help you?

Rob Cockerham: I'm ok. I'm checking up on some of your "Unbeatable" prices. Are they really "Unbeatable"?

WM: They are. They are very difficult to beat. Our competitors would have very difficult time beating them. Are you with one of our competitors?
RC: No, I'm just doing some research on my own. "Unbeatable" sounds like they could never, ever be beaten. Are they really "Unbeatable"?
WM: Yes, pretty unbeatable, and if we were beaten, Walmart will match any price on the same item, so we would not be beaten.
RC: Ah, so you would be beaten, but you would emerge victorious in the re-match?
WM: (Smiling) No. We would be unbeaten.
I knew what she was saying. To me, the challenge was to have the lowest shelf price, but to her, the transaction didn't stop there.
I followed up my trip to Walmart with an evening visit to Target on Alta Arden. I found most of the same items for sale.

The Results (all prices from July 21, 2009):
Case of Pepsi: $6.48 at Walmart, $5.50 for an 18 pack, but no cases at Target.
12 pack of Gatorade - $4.98 at Walmart, $4 for a 6 pack of 20 ounce bottles at Target.

36 pack of freezer pops - $2.50 at Walmart. I couldn't find them at Target.
Case (20 bottles) of water - $3 at Walmart, $3.99 at Target for 24 bottles.

Folgers Coffee (34.5 oz.) - $6.98 at Walmart, about $8.30 at Target

Sunny D (one gallon Juno jug) - $2.50 at Walmart, couldn't find it at Target.
Paper Towels (Sparkle) 8 rolls - $5.97 at Walmart, $8.54 at Target.

40 watt CFLs soft white 2 pack $10.44 at Walmart, $10.91 at Target.

Transformers Mixmaster toy - $21.96 at Walmart, $21.99 at Target

Plastic clothes hangers 18 pack $2 at Walmart, $1.50 at Target (10 hangers)
Lasko Box Fan 20" - $20 at Walmart, $15.99 at Target. BEATEN.

Purina Dog Chow 44 lbs. $21.98 at Walmart, $17.99 at Target for 34 oz. bag.

Swiffer Sweeper wet mop refills - $8.47 at Walmart, $8.39 at Target. BEATEN.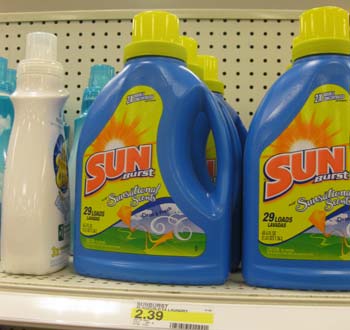 Sun Laundry Detergent 175 oz. - $6 at Walmart, $2.39 at Target for small bottle (45 oz.)

Pack of eight hot dog buns - $1.50 at Walmart. $1.19 at Target. BEATEN.

12 oz. Box of Whoppers - $1.50 at Walmart, $1.79 at Target, for a smaller box.

Tidy Cat litter 20 lbs. - $7.44 at Walmart, $6.99 at Target. BEATEN.

Plastic drink tumbler - $0.75 at Walmart, $1.99 at Target.

32 oz Gatorade - $1 at Walmart, $0.97 at Target. BEATEN.

Gallon of lowfat milk - $2.50 at Walmart, $1.97 at Target. BEATEN.
Walmart has low prices, but the idea that they are unbeatable is just ridiculous.
I checked prices at one place and Walmart got beat on 6 out of 20 prices. I suggest changing the Unbeatable signs to something which is actually supported by facts, such as "Oftentimes Lower" or possibly "Inflammable".