The Exhilarating Magic of Disneyland in the Rain
If your timing is just exactly right, you can experience a Disneyland ghost town
By Rob Cockerham |
Anyone who has visited Disneyland in the last 30 years has had a wish that there were fewer people in Disneyland. Fewer people means shorter lines, open walkways and a much better experience. Despite steadily rising ticket prices, the park is busy or crazy busy, most of the year. Christmas break? Busy. Easter? Busy. Halloween? Busy. Super Bowl Sunday? Busy.
However, there are a few precious times where Disneyland is refreshingly empty, and one of these is times is on rainy days. They are magical!
Anaheim has great weather, which means that arriving at Disneyland on a rainy day is pretty rare. While the US on average enjoys 205 sunny days per year, Anaheim gets 280. And of those ~85 cloudy days, only 23 of them bring rain.
Anywhere else, that might be a bummer, but in Disneyland, it is something special.
I was lucky enough to visit on a Sunday in February, where rain was correctly predicted. We wore rain jackets with hoods, arrived in the morning and strolled right in. Main street was wet and not deserted, but looked much less populated that any day I could remember there.
My son was agape at the look of the under-construction scaffolding of Sleeping Beauty's castle.
The castle looked hilarious and very short!
The lines were not completely missing, but they were very, very short in the morning. Here is a shot of a 10 minute standby time for Space Mountain.
Shopkeepers were out on the walkways greeting new arrivals.
Our second coaster was set to be Thunder Mountain Railroad so we headed to Frontierland, where we were greeted by this happy sight.
No one was around.
Here's a look at the center circle park in the rain. How awesome is that? Hardly anyone is around!
Here's what the chains at Pirates of the Carribean look like when no one is standing in them.
Here's a pack of kids on a school trip. They were all wearing red Adidas warmups, which is pretty damn cool.
Walking into New Orleans square by ourselves.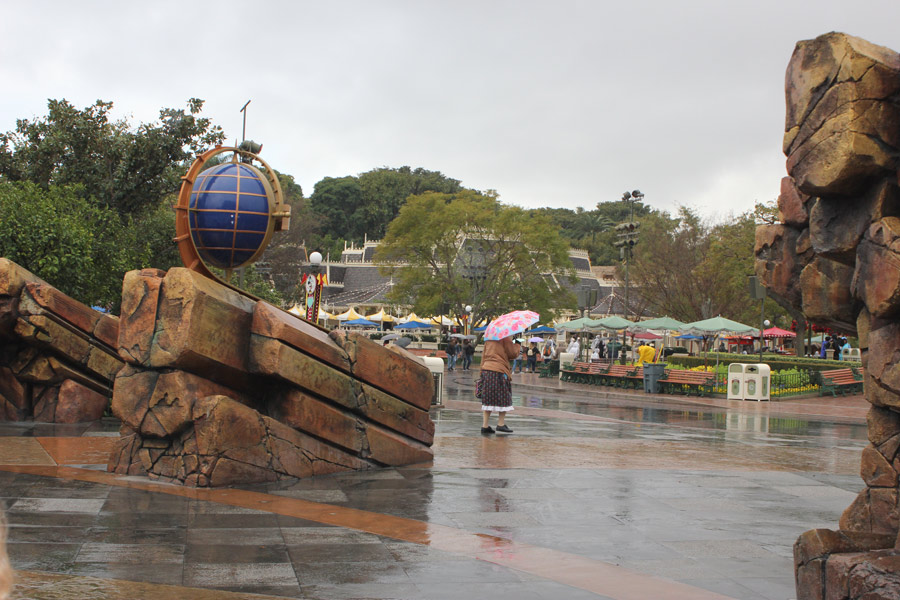 A solo grandmother walking out of Tomorrowland and into todayland.
Smaller coasters, such as Gadget's GO coaster, had a 5-8 minute wait. It was so fun. There were just enough people that it felt normal, and not odd.
Matterhorn is a mostly indoor coaster, but it could be a wet experience if you weren't wearing a coat in the rain.
The Indiana Jones' jungle atmosphere was enhanced by the rain. And who could beat a 25 minute standby time.
Of course, we were scheduling most of our rides with fastpasses. Disneyland's latest iteration of the ride scheduling tool allows you to make ride appointments for your group on your phone. It is super convenient, and means that we never had to wait more than 25 minutes for a ride all day.
The view from a monorail car showed how empty the resort plaza was. They heaviest rain was at 1pm. It wasn't a downpour, just an ordinary rainy day.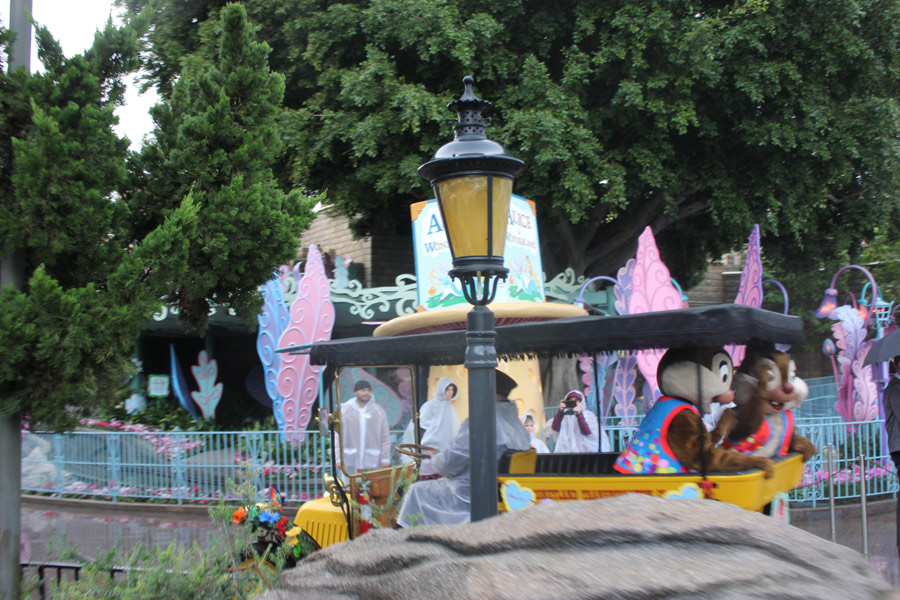 As the Matterhorn coaster was about to board, I overheard two young women expressing their sorrow that they were surely going to miss the "rainy day parade", which, apparently, is a thing that happens.
I exited the ride in time to catch the end of the rainy day parade and got to see Chip and Dale being paraded around in the back of an antique convertible truck.
The double-decker city bus was also enlisted to cart characters down the parade route. You might be able to see Genie on the left and a gorilla on the right.
The park got a bit busier as the day cleared and warmed up a bit. There were moments where the streets were crowded, but the lines were never an hour long. We got onto 25 rides, and left around 9pm. Look at this list of rides we were on! All the hits!
Space mountain
Pirates of the Caribbean
Indiana Jones and the Temple of the Golden Eye
Indiana Jones and the Temple of the Golden Eye
Matterhorn
Haunted mansion
Thunder mountain railroad
Peter pan
Space mountain
Monorail
Gadget go coaster
Adventures of Pooh
Star tours
Matterhorn
Buzz lightyear arcade
Thunder mt railroad
Thunder mt railroad
Cartoon spin
Thunder mt. Railroad
Matterhorn
Star tours
Space mountain
Matterhorn
Buzz lightyear
Space mountain
We went on so many rides that the price per ride dropped below $3/ride. That's cheaper than a county fair!
Splash mountain was in the midst of a refurbishment, so it was closed. If it had been open, the other lines would have been even shorter.
We had two more days of park tickets, but being in Disneyland in the rain was a really neat experience. I highly recommend a rainy day visit to anyone who loves an emptier-than-usual theme park experience!
This chart of Anaheim rain shows that the greatest chance for rain is on or about Feb. 19th every year, but check the wunderground for a 10-day forecast before making your own plans.
Good luck!