Cheap Family Trip to Disneyland
With only a few days to plan, we tried a super-cheap trip to Disneyland
By Rob Cockerham |
Ever since I built the Disneyland costume, I've been itching to revisit Disneyland. I wanted to see what parts I got right and which parts I got wrong. I wanted to get another look at how the train runs through the facade at It is a Small World, and how Splash Mountain butts up against the forest north of the Rivers of America.
Disneyland tickets are pretty expensive, as much as $96 per day, but sometimes you can catch a bargain on Craigslist.
Earlier this month, I found just such a bargain. A guy with four expiring tickets! Even better, he had won the tickets in a contest, so he didn't value them as much as someone who had paid cash. This was an incredible opportunity. The retail value of four two day tickets is about $712. The expiration date was looming, and with the remaining window of opportunity closing, I had to make a quick decision.
Of course, a quick-decision, incredible bargain on Craigslist has all the red flags of a scam. If I got to Disneyland and discovered that the tickets were a fake, I'd be out $275 cash, plus I'd have to drop at least another $275 to enjoy a single day at Disneyland.
I went for it! The tickets were crisp, new, and unmistakably legit with perfect perforation tails on either end. The young man wasn't in a hurry. I checked his ID and wrote down his address. He also refused to drop his price. To me, this was a strong indicator that the tickets were real.
I asked my girlfriend Suzi and her son along. We'd leave in ten days!
We hadn't planned or budgeted a vacation, so I convinced her to try a very cheap trip to Disneyland. That was our theme: Cheap trip to Disneyland.
Unfortunately, scheduling the trip in the near future meant that we would go on the weekend and miss out on hotel or airbnb bargains. We needed a place immediately. We settled for a Best Western (Palm Garden Inn) about eight miles from Disneyland and signed up for a room at $100/night.
Besides tickets and hotel, we thought we could probably save money on food and drinks. Here's the Disneyland food loophole: If someone in your group has a dietary restriction or allergy, you can bring in food for your group.
This applied to us, and frankly I can scarcely imagine a group in California that doesn't have a person with a dietary restriction or allergy.
So, the plan was set:
Buy cheap tickets via Craigslist.
Bring in our own food
Resist buying any treats in the parks.
Resist buying any souvenirs in the parks.
For a two-day trip for five people, there were a lot of meals to prepare. I didn't have a lot of experience preparing dinners to go, so Suzi was the force behind our excellent chicken and pasta and sausages.
On our first morning at the hotel, we took full advantage of a hot breakfast at the hotel. I've said it before: That free waffle breakfast at the hotel is extra delicious when it saves you buying a $56 meal inside the magic kingdom.
Arriving at the park, I was 95% confident about our tickets and 90% confident about bringing our food in. I had dared myself to bring an entire pizza in a box through the gates, instead opting for an insulated bag.
The restrictions on bringing beverages into the park were also generous. As long as you didn't bring alcohol or glass bottles, everything was allowed.
Upon arrival we breezed through the security line. They ask you to open your own bags, so we did. We weren't hiding anything. They let us right through.
Ditto at the ticket gate. The tickets were good! Incredibly cheap and legal!
All of a sudden, a feeling of Disneyland washed over me! We made it!
One thing I hadn't ever done at Disneyland was to get there before they opened. This time we made it about five minutes early and got to see "the rope drop".
Before the park opens, you have access to almost all of the Main Street characters and buildings. When the clock strikes, you are allowed to go into the surrounding Fantasyland, Frontierland, etc.
Come to think of it, Disneyland should be called Disneylands.
At 9am sharp, the small crowd of people pushed ahead into Tomorrowland, probably aiming to get in a short line for Star Tours, Space Mountain or the Matterhorn. It isn't often that you get to see everyone heading in the same direction at Disneyland.
The park starts out empty and we hit a bunch of rides in rapid-fire fashion. An empty Disneyland is an invitation to run from one end to the other.
We hit Buzz Lightyear Astro Blasters, Snow White's Scary Adventures, Pirates of the Caribbean, Star Tours, and Indiana Jones before noon.
The weather that day was staggeringly hot. 98°F. The heat and the running began to wear on us.
We needed to cool off.
Splash mountain was temporarily out of order, so we sat in the shade at Princess Jasmine's Oasis. Then we tried Autopia.
In the short line for Autopia cars, we stood in direct sunlight, baking. The kids hadn't had much sleep the night before, were hot and worn out. We needed a break.
We caught the Disneyland railroad back to Main Street and relented on our "no souvenirs" pledge. Shopping was our cool oasis.
Unfortunately, resting in a store did not reinvigorate the souls of the kids. They needed a real break from Disneyland. With a heavy heart we led them back to the tram, to the car and to the hotel. It was 2 p.m.
Suzi's son was the only kid to actually fall asleep. An air-conditioned nap would have been the perfect recharge, but a swim at the hotel wasn't a bad option. I hated to see precious Disneyland time slipping away ($7.50/hour * five people) but we kept our heads up. The rest would allow us a fresh start in the afternoon.
When I told the kids it was time to get out of the pool because we were headed back, I got this response, I swear to God, an instant classic: "Dad! Do we have to go back to Disneyland?!"
When we got back to the park, we were waived into the parking lot, we didn't have to pay to park a second time! I had hoped for this but it was still a pleasant surprise.
Inside the park was more crowded than earlier, despite the oppresive heat. It wasn't bad though, the Main Street parade was ready to start.
Arrays of lights slowly tilted up into position on top of Main Street buildings. I'd never seen that before!
The first float came out early. The Frozen float!
I thought my kids would be thrilled to see this, but they were underwhelmed. My nine-year old daughter even called it "junky".
Disneyland drum line, the beginning of the parade.
The rest of the parade followed. It's pretty great. I'd love to see where they store these floats. There must be 15 of them.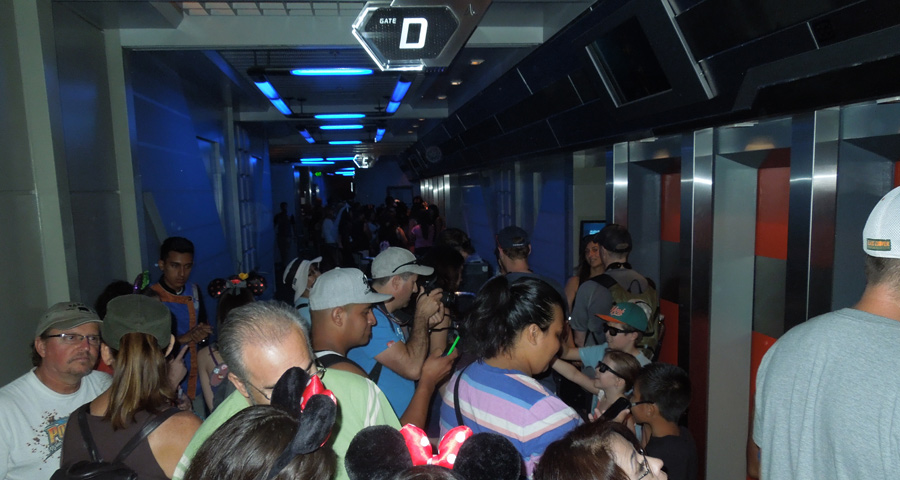 After the parade, I took my son back to Star Tours while Suzi and the kids went to try Splash mountain.
Splash mountain had an absurd line, even at 7pm, and the youngest kid was balking at the terrifying plunge at the end. Splash mountain was not going to happen.
The hotel recharge hadn't done much to re-engergize the kids. By 7:30, everyone was wilting again.
I took my daughter on Thunder Mountain Railroad. It was terrific! They completed a re-engineering of the ride last year and they added two cool effects to the ride. I love it! I can't remember the last time I was surprised by an effect in a ride! Too cool!
Due to the heat, our day had been reduced to about 7 hours of solid Disneylanding. Bringing food in had backfired somewhat. We had saved money on meals, but missed out on what may have been essential breaks in a long hot day in Disneyland.
After Disneyland, our kids fell asleep in one minute, exhausted. Our tickets had one more day on them. Tomorrow was Sunday and we were headed next door to Disney's California Adventure. Some adjustments were in order.
The next day promised to be just as hot. We'd have to be more careful about the time we spent in the sun and the miles we put on the kids.
We had to drive back to Sacramento that afternoon at 5 p.m., so we only had a lunch packed. This time we rented a storage locker at the entrance of the park and left our food in there for retrieval later.
Cars Land was our primary objective. This was the focus of Suzi's son's interest, so we did everything available here.
Please Continue Reading Page Two of Cheap Family Trip to Disneyland