When I was finished with section 102, I ran over to section 105 to start the same process there. I was patiently delivering two boxes at a time, into the stands.

We were leaving various stacks of white Street Team boxes around the concourse, which were blending in really well. People standing near them were using them as dining tables and they were also seen as a convenient place to deposit litter.

The most hair-raising part of the evening was when two police officers parked their knobby-tired Segway vehicles against the pile of boxes, all but preventing me from getting to them. They were not after me. They were working with an injured woman who was trying to describe her accident to them.

I acrobatically extracted my precious boxes, two at a time, from behind their futuristic barricade of personal transport.

"Your complimentary Prince Party Packs! Enjoy the show."
I was coming to the end of my boxes, and I was happy. I was certain that I would be the first of us three box-deliverers to finish. I was working fast, slinging box lids and almost yelling at my rows to enjoy the show.
A burst of field lights signaled the start of the halftime show. I wasn't actually finished handing out lights at that moment, but I was very close. I ignored the show below and concentrated on getting my boxes out.
At about this time, I finally began to actually get nervous about getting caught. Our message, although I couldn't see it from where I was standing, would probably be taking shape.
I love it when a plan comes together.
We were putting up this giant electronic banner, and we really didn't know when the shit was going to hit the fan. How many people in the stadium actually had the authority to call bullshit on our message, and would his agents be on the lookout for us, the perpetrators?
I suddenly did not want to get caught in the act. I was finished handing out lights, and the only job left was to clean up the wet, empty boxes. I halfheartedly gathered up armfuls of collapsing boxes and dragged them back to our niche. The other guys were already there piling up their own boxes, seemingly unconcerned about being caught. I took off my headset and changed out of my STAFF gear.
My appearance was transformed, and I relaxed, realizing that if I just walked away, I would blend into the crowd.
John, Mo, Mike and I met up outside of section 101 and quizzed each other about our success. Moses was quiet, obviously glad to be done handing out the lights. John let us know we could take off, and we left to find our actual seats way up on the top balcony of Dolphin Stadium.
Unfortunately, before we could get to our seats, we heard the start of the third quarter. Halftime was over, and we wouldn't get to see our own handiwork from the stands.
On the way up the long pedestrian ramp, I called Stacy at the hotel room. I was supposed to call within 15 minutes of the end of halftime, to assure Stacy that we had not been imprisoned.
She was happy to hear from me. She had the most boring job of our team, hanging out at the hotel room headquarters, just in case we needed outside logistical support.
I was the first of us to my seat. Incredibly, I had to kick two guys out of our seats! I didn't understand this, because these were really terrible seats.

"Where have you been?" One of them asked, squeezing out toward the stairs.

"Working". I answered. I had to hold my tongue. I had to remind myself, I was blending.
Moses and Mike joined me in the stands, where we looked at the Super Bowl but didn't really watch it. Our minds were on what we had accomplished, and the ease with which we had carried out John's plan.
The rain came down without pause.
In the fourth quarter, John came and got us. We found Mike Berlin and stood in the tunnel, talking about how things had gone.
This is not a picture of Mike Berlin. These are two Superbowl fans wearing Prince Party lights.
Mike had run into video and photography problems. His press box was class "B". In the rain and not for video camera use.
He had had to use his two cameras slyly and housed within plastic. He told us of the media security gal looking over his press box, that she was not letting anything slide, and he had been really up against a wall.
In fact, his video camera was now experiencing some kind of moisture problem, and was not responding at all. This was very bad.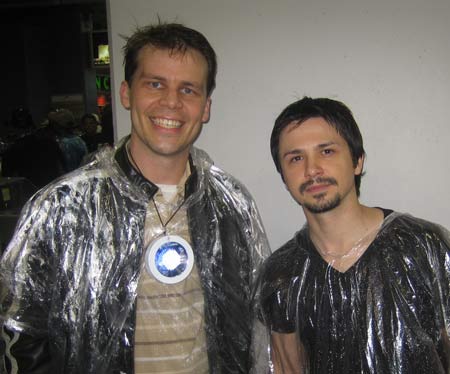 Down in the tunnel, even though we were out of our uniforms, we were still walking around like we owned the place. It was a weird feeling. A nice feeling.
Posing with actor Freddy Rodriguez.
Many people on the 100 level were walking around with necklace lights. It made me wonder, when would these people realize they had been a part of an elaborate scheme?
Would Prince Party Packs show up on ebay as memorabilia from this awesome prank?
The rest of the game flew by, and before we knew it, the Indianapolis Colts had won the game.
We made our way outside and back to the van. As we walked away from the still-roaring stadium in the rainy darkness, excitement gave way to exhaustion.
I had requested a Blackhawk helicopter for this extraction, but John said that would cost too much.
It was nearly midnight by the time we got back to the hotel, but I was amped up, and kept Stacy awake for another hour regaling our adventures.
That was the Super stunt. We pulled it off, got two thousand lights distributed at Super Bowl 41 and escaped without so much as a speeding ticket.
Now, thinking back to the stunt, one of the moments which is most clear in my mind is when my thoughts transitioned from "How could this possibly work"? to "How could we possibly fail?".
It was a magnificent experience. It will probably take its place in history as one of the most ambitious pranks of all time. I still have a hard time believing I was a part of it. Thrown together with this "A team" of pranksters.
We did the impossible. I hope someday to work against with this fearless team.
Anyone up for London, 2012?
John also describes this prank on zug.com (defunct c. 2013).
Super Bowl Prank - The Video.

Superbowl Prank - Doubts!