Through the next few days, I prepared for the Super bowl stunt. I got the days off of work. Stacy and I got our travel reservations to Miami. This stunt was being financed by John.
I also began crafting some arena badges. John had assured me that he had already ordered the pants and stadium staff shirts, embroidered with the appropriate four-color logos.
From John's reconnaissance photos, football games at Dolphin Stadium seemed to require three badges to be displayed at all times: A smallish, drivers-license type photo ID, A large, laminated event staff badge, and an orange game-specific stadium operations badge.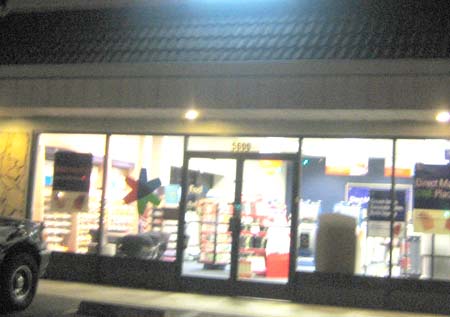 Unfortunately, we didn't know exactly what the actual Super bowl badges were going to look like. I just took a stab at it, mixing football imagery, passport photos and our actual personal information, such as our full names and telephone numbers.
Getting the correct look was critical. You could find pictures of legitimate Super Bowl tickets on eBay, but Flickr was a lot better.
A few hours of Photoshop paid off, and we soon had game ID for our whole crew. I was somewhat confounded by the paper color on the orange game-day badges, and despite checking three local sources, I could not match the hue precisely without manufacturing my own paper.
I decided to give John a choice of two different sets of orange badges and let him make the call. I finished my manufacturing Tuesday night at Fedex Kinkos, crammed them into an envelope, and set them on their way to John in Boston.

I made a trip to my neighborhood Home Depot, and saw that they were having a "Shop and Win" contest. "Spend $100 and enter for a chance to win! You could win a trip for two to Super Bowl XLI".

I had to pinch myself. I was going to the Super Bowl! This was like winning the Grand prize. Unbelievable.
I was not scheduled to arrive in Miami until Friday evening, two days before the Super bowl.
Friday would be a big day for this scheme: Friday was the day the boxes of lights had to actually be moved into the stadium.
John set up a conference call to let everyone know how things were progressing. He had successfully imported the Chinese-made necklace lights and had organized a 12-person battery-installing assembly line within his living room. Each light had been packed with a full-color Prince flier, and a location sheet specifying SEAT, NUMBER and ROW. The lights were either white or blue, and they were organized to spell out John's secret message. His crack sweatshop team had finished just in the nick of time, and his 2,395 lights now occupied 95 boxes on two pallets. UPS arrived with a truck just as they were wrapping the pallets.
Wednesday, January 31st: Boston.
Law enforcement and city officials took action in response to some curious black boxes which appeared on some city property. Bridges were closed, bomb squads were brought in, and entire sections of the city were cordoned off.
The boxes turned out to be mini electronic billboards advertising Aqua Teen Hunger Force, and the nation was immediately gripped by the question, "Who is responsible when your harmless light distribution gets interpreted as a threat to the public"?
Although this was not related. It would have a negative impact on our stunt if we sparked a full-scale security freak-out. "Why would you do this so soon after a similar prank in Boston caused so much fuss?", I imagined the Special Prosecutor addressing me.
On the other hand, this "bad guess" by Boston authorities was also getting criticized as an over-reaction. The effect at the Super bowl would probably be a more lenient security stance. We would enjoy the "twice shy" effect.
On Thursday, this article caught my eye. "Super Bowl security on full alert in Miami". I skimmed it. It mentioned protection from "high and fast violators", blackhawk helicopters, bomb-sniffing dogs, gamma-ray scanners, counterfeit tickets and had a quote from the director of the Miami-Dada Police Department, "We must be prepared for any eventuality".
Miami Dade Police were working in conjunction with local and state agencies, as well as more than 30 FEDERAL AGENCIES, including the FBI, the Secret Service and the Coast Guard. The Department of Homeland Security designated Julie Torres, the chief of the Miami ATF as the primary federal coordinator for Super Bowl security.
Furthermore, James Bond was assigned to the stadium grounds, working hand in hand with the dudes from CSI Miami, Jack Bauer, Batman and the reanimated zombie of Eliot Ness.
I was nervous.
Even if the prank was a complete disaster, I was getting a trip to Miami out of it, and almost definitely a visit to the Super Bowl. How many people can say they've been to Burning Man AND the Super bowl?
To complete this list of pre-game impressions, I should mention here that tickets to the Super bowl are really, really expensive, and John had tickets for all of us.
John had a huge investment in this prank. The monumental cost gave failure a very serious consequence.
Thoughts invaded my sleep as our travel day arrived:
Could they get the boxes in?
Could they get the boxes hidden?
Will we get nailed staging dozens of boxes in seven stadium tunnels?
Finally, it was travel day. Stacy and I dropped our daughter June off at her parent's house, and drove to San Francisco to catch our flight to Miami.
Checking his baggage at the airline counter next to us was a tall African American man with a moustache. He was being nonchalant, but the gal at the American Airlines counter was not, "TODD! I need your help checking a firearm for this gentleman"!
"Is it unloaded and locked?"
"Yes"
"Are you traveling with less than 50 rounds of ammo, packaged separately?"
"Yes"
"One Moment...TODD!"
He looked a bit embarrassed, still playing it cool.
"I try to be patient. Every airport is different".
A few hours later, in Miami, Stacy and I walked past this trio, working on a display window in the secure area of the airport. They didn't look suspicious. They were just regular dudes, trying to fix the frame on an ad.
These two encounters; the gun dude and the airport workers, really settled my nerves for the adventure ahead. I took note: If you look like you have nothing to hide, everyone will pretty much leave you alone. Look tired and bored, and if anyone asks you if you know what you are doing, say "Every Stadium is different".
Please continue reading page three of the super bowl prank.