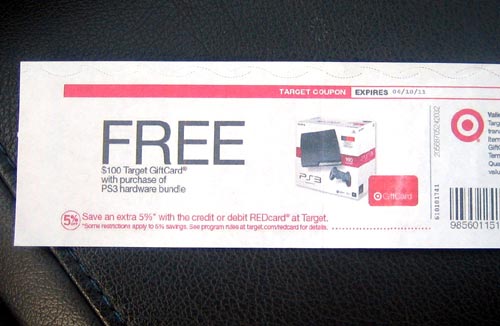 A coupon. For $32. Now I was locked in to buying a Playstation. I just had to wait for the coupon to arrive. I'd save $100, minus the $32 I just spent. No problem.
However, something went wrong. The next day, Target came out with a new flyer, and guess what? It was their Father's Day Sales circular, and they were repeating the $60 gift card special! Dammit!
I know, this seems like good news! I had accidently stumbled into a replay of the double-gift card special, and if I could act quickly, I'd be able to exploit both the $100 gift card and the $60 gift card deals. Unfortunately, I didn't have the coupon yet.

I waited. On Monday morning a tracking number arrived. He had shipped the coupon from Roswell Georgia, and I had six days to use it before it expired at midnight on Saturday.
I waited.
On Tuesday, Wednesday and Thursday, the coupon didn't show up, and the tracking number didn't reveal anything. It just noted that the post office was notified of the package on Monday. Had he really mailed it? I started calling Target stores, and sure enough, they were out of stock, waiting on a fresh delivery "soon".
"Come in the morning, right when we open", the Target salespeople advised.
On Wednesday I wrote to the seller. My time was running out. I asked when my coupon had been mailed. He didn't respond.
One scenario I imagined was that the coupon seller had changed his mind when Target published the new circular. That coupon, by one way of thinking, had increased in value by $60 right after he sold it.
On Friday, the coupon didn't come. If it didn't come Saturday it would arrive too late, a $32 expired coupon.
Just as I had given up hope, I checked the tracking number. The package was in town! It would arrive tomorrow!
Damn. Was there any chance of getting a playstation on the last day? Could any stores have any left in stock? I was going to find out.
On Saturday, at 3 pm, the coupon arrived in the mail. $100 gift card with purchase of a Playstation 3 bundle. Now I had to find one. Sure enough, all of the local stores were sold out of the 160 GB version. However, a few 320 GB bundles were still available, bundled with the PS3 MOVE, motion tracking system, for $399!
Dammit! I was caught. In order to use my precious $100 gift card coupon, and cash in on the $60 deal, I'd have to spend $100 extra, on a premium package that I didn't really want.
I didn't like it, but it was still a deal. Maybe the extra disk and Move package wasn't worth $100 to me, but it was worth $50, so why not use the coupon and bring home the deal that day? Instead of getting a $299 PS3 for the equivalent of $140, I'd be getting a $399 playstation for the equavalent of $240.
I packed the kids in the car and drove to Target. We were getting a Playstation.