Have you seen Yosemite?
I can't believe I had never visited this incredible valley
By Rob Cockerham |
If you don't like uphill trails, there is a serene river running through the valley.
Don't you love how there is a sheer granite wall in the background of every photo? You are surrounded!
Here's my daughter posing in front of the footbridge near Housekeeping Camp.
There were Dogwood trees blooming while we were there.
Here's a look up at a sheer granite wall near Vernal falls. It is incredible.
There are wild animals in Yosemite too. This is a photo of a bobcat hanging out near one of the cabin tents in Housekeeping Camp, where we were staying. Most people were out hiking in the afternoon, so this cat felt safe walking around in camp.
We also saw deer, lizards, squirrels and a fox.
There is an extensive protocol for protecting your food from bears, because if a bear starts having success taking food from humans, they are probably going to have to kill that bear.
Here's the sign welcoming campers to one of the campsites. I love this sign. The letters are traced with lightbulbs.
Also, check out the sky-high granite wall behind the sign! in 2008 there was a rockfall, and it smashed some buildings, so they took out 1/3rd of the tents!
Camp Curry (named after a guy named David Curry) features white tent lodging in neat rows. I think this was one of the original campgrounds in the Yosemite Valley. I think these white tents are $90 a night, and there are wooden micro-cabins for $220 a night.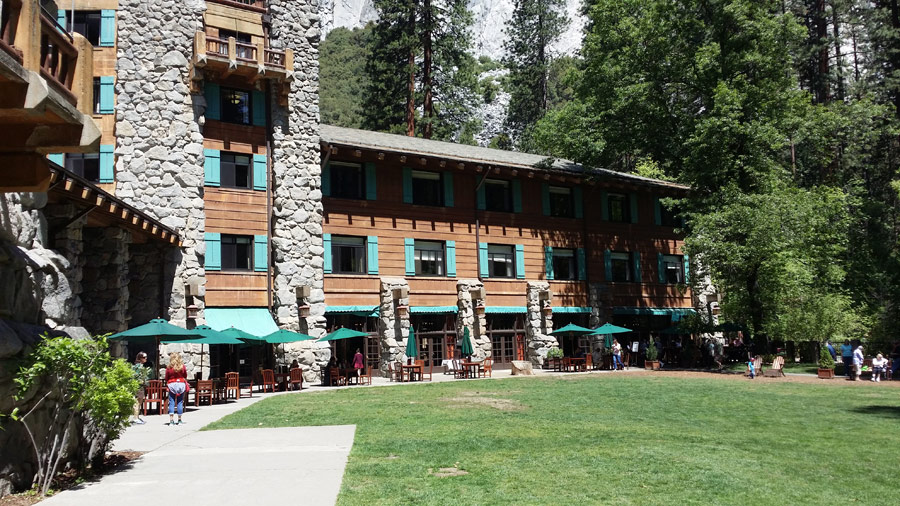 I didn't stay at the Ahwahnee, but it is an important California landmark.
I was going to say that this Arts & Crafts style was the inspiration for the Grand Californian hotel at Disneyland, but it wasn't. I was also going to say that it was the inspiration for the lodge in Disney's Planes, Fire and Rescue, but that turned out to be false too. The "Arts & Crafts" guess is only half-right, as research revealed that the style is a mix of Art Deco, Native American, Middle Eastern, and Arts and Crafts.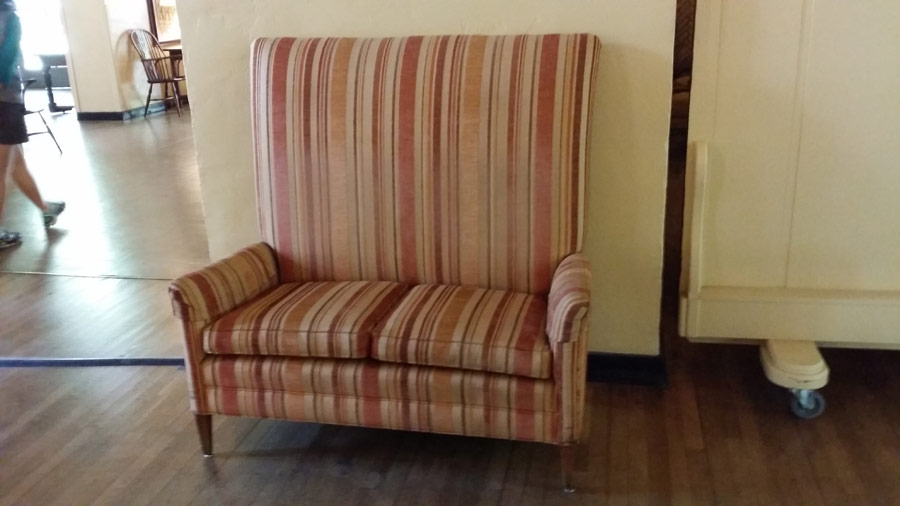 This hotel was built in the 1920s.
You know you are relaxing when you sit in one of these.
Here's the view from the Ahwahnee patio.
I think there are 99 rooms and some cottages. It's about $425 a night and it is full.
Yosemite is an incredible jewel. It's got everything a peaceful camping trip promises, with majestic views of this earth that will fill your heart with awe.
I can't believe it is so close and I had never seen this place!
Back to Page One of Yosemite Vacation