How Much is Inside A Waffle?
Which costs more, the waffle or the syrup on top?
By Rob Cockerham |
Waffles are a big favorite for breakfast. They are a stand-alone breakfast, which is simple and warm and delicious. And they are cheap! Or are they?
On Sunday morning, we decided to find out.
Waffles and pancakes have nine ingredients inside, nothing exotic, just cupboard staples.
Milk, sugar, oil, these are all cheap. For one batch of morning waffles, what does all this add up to?
The cup of flour is 15¢, the sugar is another 15¢, the vanilla is 3¢, a cup of milk is 20¢, oil 9¢ and the baking powder is 7¢ per batch. The most expensive ingredient is the egg, which might run you 32¢ in California. That's $1.01 for a batch of waffles!
Unfortunately, there is a hidden cost to waffles: The syrup! Yes. That tasty dark goo might cost more than the waffles themselves! What an ironic twist, that overlooked syrup, which restaurants sling around in minature tin pitchers, and leave on the table like a cistern of salt, might be more valuable than the waffles themselves! I needed to find out what was more expensive, the waffles or the toppings, but I'd need to do some careful weighing and calculations to find out the truth.
The ingredients above, for $1.01, make a small batch of waffles. It makes five and a half waffles, which is less than you want, but more than you should have.
I use an ancient electric waffle iron. It opens just past vertical and the steaming hot top plate constantly threatens to slam down on my precious extremities.
Luckily I grew up with a toilet seat which had the same characteristics, so my reflexes are as sharp as a cat's.
As the waffles finished cooking, we weighed them before adding butter and syrup. Above, a naked waffles clocks in at 95 grams (not including the plate).
Butter, maple syrup and Mrs. Butterworth sat nearby, ready to complete the picture.
This same waffle absorbed 5 grams of butter before being covered in 20 grams of Mrs. Butterworth's corn, er, pancake syrup.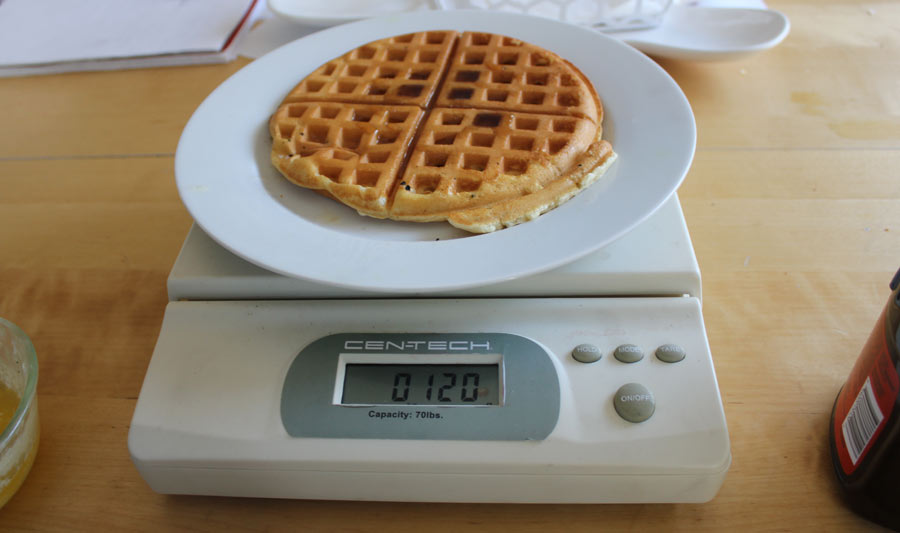 This is the amount of syrup that a 7 year old put on his own waffle without guidance: 20 grams. He's certainly used more, but it's lower than the 60 gram serving size prescribed on the Mrs. Butterworth label.
Here's one my daughter prepared. It was smaller, 50 grams (weight before butter and syrup)
It absorbed 5 grams of butter and 15 grams of syrup before being eaten.
Numbers started accumulating. Five and a half waffles for $1.01, equals 18¢ per waffle. The 5 gram average of butter equals 5½¢ per waffle, and the 20 gram average of Mrs. Butterworth syrup equals 12¢ per waffle.
That math works out nicely! The waffles are 18¢ and the toppings add up to 17½¢ per waffle! What a nice equilibrium!
For real maple syrup, unfortunately, the math is a bit different. I added 25 grams of maple syrup to my waffle. That turned out to be 56¢ worth of syrup, worth three times as much as the waffle itself! It's like putting 18" rims on a Kia Rio, or plating a baby's shoe in bronze! It's madness!
Ok, ok, sorry, I got a little out of hand there for a minute. Lots of breakfasts are cheap at a restaurant and even cheaper when you whip them together at home. Coffee, bacon, poached eggs, hash browns, sausage, pancakes, omelettes and waffles. Breakfast! It's so cheap you can afford to eat it twice!
Epilogue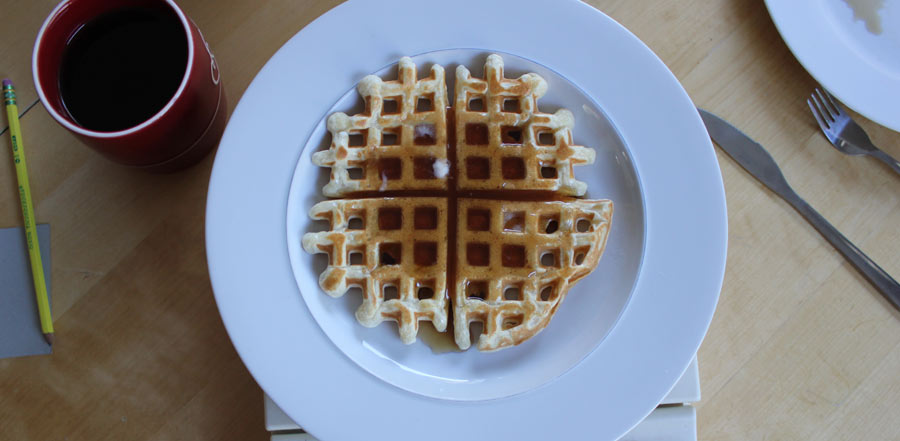 Kenneth Erstad asked me about the cost of elecricity to cook waffles on an electric grill. I've explored this in a previous article, how many watts does a waffle iron use? My waffle iron uses 582 watts, which costs about 7¢ per hour. These waffles need a little more than a minute in the waffle iron, so including warm-up time, I estimate the price per waffle to be about 1/6th of a cent.
Furthermore, because most readers would like to know the value of their syrup, but don't have access to an accurate scale, I thought it would be nice to decribe the syrup coverage in units of "waffle squares".
The waffle above has a generous portion of syrup. How big a portion? Just count the squares! The syrup has filled 13 of the available waffle squares.
The 13 squares example above illustrates 30 grams of syrup. That's 24¢ worth of Mrs. Butterworths syrup, so each square of waffle represents about 2¢ of syrup! It's an easy rule of thumb!
For real maple syrup, the price is higher. On my waffle, 30 grams of maple syrup filled 10 squares.
That 30 grams of maple syrup is worth 67¢, so each square represents 6.7¢ of syrup!
The waffle above is holding 10 squares. If you fill 15 squares, your waffle is holding a dollar of syrup!