Allison Anders
Makes thoughful coming-of-age movies
Sugar Town
Grace of My Heart
Four Rooms
Mi Vida Loca (My Crazy Life)
Gas Food Lodging

Border Radio

Susanne Bier
Danish director
Things We Lost in the Fire
After the Wedding
Brothers
A Corazon Abierto (Open Hearts)

Once in a Lifetime
The One and Only

Credo
Like It Never Was Before
Taxi to Portugal
Letter to Jonas
Freud's Leaving Home

Kathryn Bigelow
Big budget Action & Suspense Movie Director.
The Hurt Locker
Mission Zero
K-19: The Widowmaker
The Weight of Water
Strange Days
Point Break
Blue Steel
Near Dark
The Loveless
Catherine Breillat
French Director of stark and dark sexy dramas. My new personal hero.
La barbe bleue (Bluebeard)
Une vieille maîtresse (The Last Mistress
)
Anatomie de l'enfer (Anatomy of Hell
)
Sex Is Comedy
Brief Crossing (Breve Traversee)

À ma soeur! (Fat Girl
)
Romance

Parfait amour! (Perfect Love
)
Sucia Como Un Angel
(Dirty Like an Angel)
36 Fillette
(Junior Size 36)
Tapage nocturne (Nocturnal Uproar)
Une vraie jeune fille (A Real Young Girl
)

Colette Burson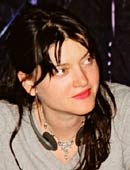 Romantic Comedies
Little Black Boot
Coming Soon
Jane Campion
Australian Director nominated for Oscar for directing The Piano. She was also the first woman to win the Palme d'Or at the Cannes Film Festival
Bright Star
The Portrait of a Lady
Holy Smoke!
In the Cut
The Piano
An Angel at My Table
Sweetie

Peel
Zoe Cassavetes
Romantic Comedies, compared to Sofia Coppola
Broken English

Men Make Women Crazy Theory
Gurinder Chadha
Officer of the British Empire, directs teen comedies
It's a Wonderful Afterlife
Angus, Thongs and Perfect Snogging
Paris, Je T'Aime (Paris, I Love You)
Bride and Prejudice
Bend It Like Beckham
What's Cooking?

A Nice Arrangement
What Do You Call an Indian Woman Who's Funny
Bhaji on the Beach

Acting Our Age

Sylvia Chang
Multi-genre director and actor from Taiwan
Yat kor ho ba ba (Run Papa Run)
20 30 40

Seung fei (Princess D)
Sam dung (Tempting Heart
)
Jin tian bu hui jia (Tonight Nobody Goes Home)
Shao nu xiao yu
San tung gui see doi (Conjugal Affair)
Meng xing shi fan (Mary from Beijing)
Sha Sha Jia Jia zhan qi lai (Sisters of the World Unite)
Huang se gu shi (The Game they Called Sex)
Zui ai (Passion)
Jiu meng bu xu ji (Once Upon a Time )

Christine Choy
Directed a few documentaries about asian wrongful deaths
In the Name of the Emperor
The Shot Heard 'Round the World
Who Killed Vincent Chin?
Martha Coolidge
An experienced filmmaker with many comedies to her name. Had early success with Valley Girl and Real Genius. Like John Hughes, the genre may have evolved away from her.
An American Girl: Chrissa Stands Strong
Material Girls
The Prince and Me
Out to Sea
Introducing Dorothy Dandridge
Three Wishes
Angie
Lost in Yonkers
Rambling Rose

Plain Clothes
Real Genius

Joy of Sex
City Girl
Valley Girl

Not a Pretty Picture

Sofia Coppola
The first American woman ever nominated for best director Oscar. Will probably live to make more movies than her father.
Somewhere
Marie Antoinette
Lost in Translation
The Virgin Suicides

Lick the Star
Bed, Bath and Beyond

Claire Denis
Prolific French Director of dramas. Rooted in Africa
White Material
35 Shots of Rum
Vers Mathilde
The Intruder
Friday Night
Trouble Every Day
Beau Travail
Nenette + Boni

J'ai pas sommei (I Can't Sleep
)
Boom-Boom
Keep It for Yourself
No Fear, No Die
Man No Run
Chocolat
Nora Ephron
The daughter of a pair of screen-writers. She specializes in comedies.
Julie & Julia
Bewitched
Lucky Numbers
You've Got Mail
Michael
Mixed Nuts
Sleepless in Seattle

This Is My Life

Valerie Feris
Very successful and famous music video and commercial director heading feature films after the success of Little Miss Sunshine. Won Grammys.
Used Guys
The Abstinence Teacher
Little Miss Sunshine

The Check Up

Lesli Linka Glatter
Her Tales of Meeting and Parting was nominated for an Academy Award as Live Action Short. Directs for television also.
The Proposition
Now and Then

Tales of Meeting and Parting

Marleen Gorris
The first woman to direct a movie that won an Oscar for Best Foreign Film
Heaven and Earth (Barry)
Within the Whirlwind
Carolina
The Luzhin Defence
Mrs. Dalloway
Antonia's Line

The Last Island
Gebroken spiegels (Broken Mirrors)
De stilte rond Christine M. (A Question of Silence)

Lucile Hadzihalilovic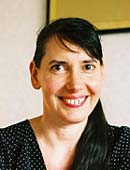 French director has been nominated for 11 film awards and won all 11.
Innocence

Good Boys Use Condoms
Parental Guidance

Catherine Hardwicke
Also a prodution designer. Her Twilight grossed $200 million.
Twilight
The Nativity Story
Lords of Dogtown
Thirteen
Amy Heckerling
Specializing in mainstream comedies, not particularly romantic ones.
I Could Never Be Your Woman
Loser
A Night At the Roxbury
Clueless
Look Who's Talking, Too
Look Who's Talking
National Lampoon's European Vacation
Johnny Dangerously
Fast Times at Ridgemont High

Getting It Over with

Mary Lambert
Modern horror and drama. Also directed top Madonna videos
High Midnight
The Attic
14 Women
Clubland
Pet Sematary Two

Grand Isle
Pet Sematary
Siesta
Mimi Leder
Director of Drama and Action Movies and television
Mandrake the Magician
The Code
Pay It Forward

Sentimental Journey
Deep Impact
The Peacemaker
Caroline Link
German Oscar winner for Best Foreign Language Film. Directs dramas and comedies
Im Winter ein Jahr (A Year Ago in Winter)
Nirgendwo in Afrika (Nowhere in Africa
)
Pünktchen und Anton (Annaluise & Anton
)
Jenseits der Stille (Beyond Silence
)
Sommertage
Glück zum Anfassen
Bunte Blumen

Jennifer Chambers Lynch
Survived critical reviews of Boxing Helena and now makes horror movies.
Hisss
Surveillance
Boxing Helena
Penny Marshall
Known best as Laverne DeFazio on Laverne and Shirley, she is also a star Producer and Director. She was the first female director to direct a film which made more than $100 million (Big). She repeated that success with "A League of their Own".
Riding in Cars with Boys
The Preacher's Wife
Renaissance Man
A League of Their Own
Awakenings
Big
Jumpin' Jack Flash
Lucrecia Martel
Argentinian director makes films described as "artistic" and "puzzling".
La mujer sin cabeza (The Headless Woman)
La niña santa (The Holy Girl
)
La Cienaga

(The Swamp) Besos rojos
Piso 24
El 56

Darnell Martin
American director of ghetto-centric dramas and musicals. The top female african american director
Cadillac Records
Prison Song
I Like It Like That
Deepa Mehta
Toronto-based Indian director of dramas and romances. Her Water was nominated for best foreign language Oscar.
Heaven on Earth
Water

The Republic of Love Bollywood/Hollywood
Earth
Fire
Camilla

Sam & Me
Martha, Ruth & Edie

Nancy Meyers
Super successful and sought after director of top-flight romantic comedies. Leads Penny Marshall as the female director with greatest cumulative film proceeds.
Force Five
The Holiday
Something's Gotta Give
What Women Want
The Parent Trap
Mira Nair
Award winning and prolific Indian Director of romance, drama and documentaries
Amelia
New York, I love you
Migration
The Namesake
Vanity Fair
Hysterical Blindness
Monsoon Wedding

The Laughing Club of India
My Own Country
Kama Sutra: A Tale of Love

The Perez Family
Mississippi Masala
Salaam Bombay

So Far From India
India Cabaret

Barbara Peters
Low budget drive-in exploitation fare in the 70s and early 80s. Several cult classics.
Humanoids From the Deep

Starhops
Summer School Teachers
Bury Me an Angel
The Dark Side of Tomorrow
Sally Potter
British director
Rage
Yes
The Man Who Cried
Tango Lesson
Orlando

I Am an Ox, I Am a Horse, I Am a Man, I Am a Woman
The Gold Diggers
London Story
Thriller
Play
Stephanie Rothman
Made drive-in exploitation movies in the 60s and 70s. Was a partner in Dimension Pictures and the first woman to be awarded a Director's Guild Fellowship.
Working Girls
Terminal Island

Group Marriage
The Velvet Vampire
The Student Nurses

It's a Bikini World
Blood Bath

Penelope Spheeris
Directs music documentaries and mainstream comedies, plus Suburbia.
The Kid and I
Senseless

The Decline of Western Civilization III
Black Sheep
The Little Rascals
The Beverly Hillbillies
Wayne's World

The Decline of Western Civilization II
Dudes
The Boys Next Door
The Decline of Western Civilization
Suburbia
Julie Taymor
Tony award-winning director of historical dramas and musical dramas. Designs costumes and puppets.
The Tempest
Across the Universe
Frida
Titus
Betty Thomas
Started at Second City comedy troupe, got one of her Emmys as an actress on Hill Street Blues. Experienced director and producer of very light comedies.
Dallas
Alvin and the Chipmunks: The Squeakquel
John Tucker Must Die
I Spy
28 Days
Dr. Dolittle
Private Parts
The Brady Bunch Movie
Only You
Margarethe von Trotta
German based in Paris, her movies often feature a strong female protagonist with a political motive or background.
Vision - Aus dem Leben der Hildegard von Bingen (Vision)
Ich bin die Andere (I Am the Other Woman
)
Rosenstrasse

Das Versprechen (The Promise)
Il lungo silenzio (The Long Silence)
L'africana (The African Woman)
Paura e amore (Three Sisters)
Die Geduld der Rosa Luxemburg
Heller Wahn (Friends and Husbands)
Die bleierne Zeit (The German Sisters)
Schwestern oder Die Balance des Glücks (Sisters Or the Balance of Happiness
)
Das zweite Erwachen der Christa Klages (The Second Awakening of Christa Klages) Die verlorene Ehre der Katharina Blum oder: Wie Gewalt entstehen und wohin sie führen kann (The Lost Honor of Katharina Blum
)

Lina Wertmuller
Italian director who got started as an assistant director to Fellini. First woman to grab a best director Oscar nomination. Has directed 30 films. Her film "Swept Away" was remade by Guy Ritchie and Madonna.
Mannaggia alla miseria
Peperoni ripieni e pesci in faccia (Too Much romance...It s Time for Stuffed Peppers
)
Ferdinando e Carolina (Ferdinando and Carolina
)
Ninfa plebea (The Nymph
)
Metalmeccanico e parrucchiera in un turbine di sesso e di politica (The Worker and the Hairdresser
)
Io speriamo che me la cavo (Me Let's Hope I Make It )
Sabato, domenica e lunedì (Saturday, Sunday and Monday
)
In una notte di chiaro di luna (As Long as its Love)
Notte d'estate con profilo greco, occhi a mandorla e odore di basilico
Francesca & Nunziata
Summer Night

Un complicato intrigo di donne, vicoli e delitti (Camorra: The Naples Connection
)
Sotto... sotto... strapazzato da anomala passione (Softly, softly)
Scherzo del destino in agguato dietro l'angolo come un brigante da strada (A Joke of Destiny)
Fatto di sangue fra due uomini per causa di una vedova - si sospettano moventi politici (Blood Feud
)
La fine del mondo nel nostro solito letto in una notte piena di pioggia (Night full of Rain)
Pasqualino Settebellezze (Seven Beauties
)
Travolti da un insolito destino nell'azzurro mare d'agosto (Swept Away
)
Tutto a posto e niente in ordine (All Screwed Up)
Film d'amore e d'anarchia, ovvero 'stamattina alle 10 in via dei Fiori nella nota casa di tolleranza...' (Love and Anarchy
)
Mimì metallurgico ferito nell'onore (The Seduction of Mimi
)
Il mio corpo per un poker (The Belle Starr Story
)
Questa volta parliamo di uomini (Now Let's Talk about Men)
I basilischi (The Basilisks)