I've been wanting to Jambi for quite a while, but never really had the time to put it together until now.
Working at a design firm, I have access to plenty of leftover Gatorboard (gator foam). This was taken from a couple of presentation boards and hot glued together with jet melt, industrial-grade hot glue. The orange just happens to be part of a graphic from a previously mounted display board, but did have a nice effect.
Here's after the first coat of metallic paint. It's a water-based, washable paint, but was the closest I could effect-wise, so I knew I would need to seal it when finished. This first coat was laid over a coat of white primer. To reinforce the 90 degree angle on the doors, I superglued some acrylic at the joint. The doors are attached with super glue and run of the mill hinges, but I used binding screws (for paper) to give it a more finished look. The gator board is slightly porous, so even though I did the primer coat, it took about 5 *thick* coats to get it right.
Next I used a mixed bag of buttons from Michael's by cutting off the mounts in the back that are intended for thread and hot gluing them flush to the doors. It took a while, but the effect was well worth it.
Next I needed to make a way to mount it to my shoulders. In addition to going to a couple of parties, I would also need to bartend later on that night, so the mounts had to be secure. I simply cut some gator foarm to go over my shoulders and added some padding at the pressure points, then left a channel to add some old laptop bag shoulder straps. The straps would actually go through holes cut in the top of my shirt and clip in to my belt loops to provide forward and backward support. It was a lucky first try, but it worked.
Finally came the liner. I bought some satin-ish fabric from a local store, but had to first drill in the mount for the light.
I bought a simple 8-light LED light that's intended to be positioned in the top of a tent, but it came with a metal mount and a magnet back that made it work out perfect. I painted the lens with green acrylic paint to get it to glow the proper color, mounted the metal bar and began to lay fabric over top. An additional perk of this light is that it came with a remote control so I could turn the light on and off as I pleased.
My first test run. The glow worked out much better than I had anticipated.
Now it was time for make-up and we were ready to go. The costume worked out great and I got a lot of good feedback. I had thought about mounting the doors on actuators, which would have worked out great for my time behind the bar, but instead decided to let them open and close as they pleased. I think the actuators would have made a huge impact, maybe even a little smoke. Can't wait till next year!
Total cost was about $45 for supplies (price does not include cocktails).
-James
http://www.twitter.com/InsoOutso
Hi Rob,
Just wanted to say thanks for being an inspiration. I never would have attempted anything like this before reading about all your adventures.
http://dmcme.blogspot.com/2008/11/halloween-costume-contest.html

And attached are a few pics of me making it.
The body is made from a sono tube for concrete foundations.
The feet are made from upside down salad bowls from the dollar store. I glued some old shoes inside.
The head is made from a $7 garbage can from Zellers.
The eyes are made from the lids of two tiny micro remote control cars I bought at the dollar store.
The mouth is curtain (sheer) fabric so that I can see. I cut 2 popsicle sticks and glued them inside with a magnet. My cigar has a magnet on the end and can snap onto the magnet in my mouth.
The antenna is a wooden dolls head from Michael's, rolled paper and the lid of a spray paint can.
The arms and legs are sewed onto some cheap used clothes I picked up at Value Village.
I also cut a flap in the front so I could walk up stairs and bend over a bit. I used magnets to pull it back down and hold it in place. They worked really well and made a very nifty clicking sound.

Everything else is just a lot of glue and Polyfilla - and hours and hours of sanding.
I spent about 25 hours on it, and the total cost was about $100 (partially because I messed up once and had to buy more parts) If you check out the link, you'll see I won 1st place at a local Boston Pizza, taking home $200.

Marty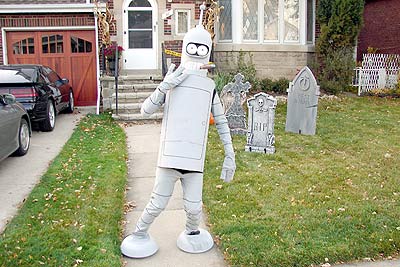 My friend and I were Cloberella and Super King, from Futurama episode "Less than Hero." No pictures of the making of unfortunately, but mine consisted of a lot of spray paint and sewing. Hope you like them!

Sara Johnson

Hi there Rob!

I'm a long time reader of your site, but I've never had a good reason to email you before now.

YAY! I finally do!

On your site, you're asking, as usual, for pics of readers' homemade Halloween costumes. I've got one! I work at EB Games in a little town in Canada, and this year I got it into my head to go as Princess Peach. I'm very lucky to have a really talented and good-natured mother-in-law who helped me a ton with the dress and wig for this thing. I caused quite a commotion working for 8 hours in this getup at the mall!

Time spent on costume- approx. 2 months

Costume total cost- at least $200. I kinda lost count at some point.

Everything was made from scratch except the wig, which we had to style anyway, and the hoopskirts, which required a few hours' ironing and you can't see anyway.

Hope you like it! Can't wait to see what you built out of all that foam!

Rock on-

Dorothy, aka Peach :)
Well, it was definitely a good year. On 10/25 I won the $2,500 grand prize at the Exotic Zone Ball in Sacramento for the second straight year. Here are a couple of my favorite photos:
Then, at 4am on Thursday, 10/30, we drove nine hours to Las Vegas where we stayed at Monte Carlo. That night, I won the $5,000 top prize at Tryst nightclub at Wynn, and 3rd place at Moon nightclub at The Palms the following night.
The first night, I won and the Hulk got 3rd (the Tin Man got 2nd). The second night, we both happened to show up at the same club at The Palms and our places switched – he got 1st, some dorky robot guy on a Segway got 2nd (???!!!), and I got 3rd.
The Hulk costume was really good and really massive, so I didn't mind losing to him. But I have no idea where the dorky robot came from, which is probably the same way the Hulk felt about losing to me and the dorky Tin Man the night before.
My 3rd place victory on Friday night at Moon got me $500 cash, plus a VIP table and bottle service for ten people at Moon (supposedly worth somewhere between $1,000-2,000, depending on the date you use it). That night, I also got to hang out with a friend from college and her husband who I hadn't seen in four years (they live in Vegas and met us out), so that was really cool.
It was a great weekend. Here are some of the photos:
Hey Rob!
Love the site and can't wait to see what you did for Halloween this year!
I saw you're doing the Cockeyed.com Costume contest again and thought I'd submit
mine. It's the first time I've ever built my own and it turned out pretty
hilarious.
I'm a member of the marching band at UMass Amherst. Every October we have a
"Band-o-ween" where everyone, including our director, is supposed to come in
costume. This year, my roommate, two of my friends, and I decided to step it up
a bit. We made giant cardboard and fabric costumes of Pac-Man, Inky, Blinky
(that's me!), and the cherries. We ended up running through campus on our way to
practice with people laughing, cheering, and taking photos as we went by. It was
amazing!
Here are a couple of photos of us. I couldn't find one of all four of us
together, but if someone posts one in the next few days, I'll send it along.
Hope you had a great Halloween!
-Becca Zahora
Rob, you've inspired me for years. This year, I finally made my own costume. While I can't claim to put my effort in the same league as your creations, it was an accomplishment nonetheless. The idea was with me from the beginning of the year; a villain from Batman comics. When "The Dark Knight" came out, I was surprised that Two Face was involved, but the Joker got all the attention. I went to Goodwill and purchased the necessary items: two sports coats, two pairs of slacks, two shirts, two neckties. Cutting them apart was easy. The stitching... Not so much. Still, it didn't take long, just a couple of nights. Friday night, I gave myself a haircut and some makeup, threw on my bisected suit, and went to a kickass party. There were three Jokers and five Sarah Palins. If the best costume contest hadn't been canceled for time, I think I would have won on commitment alone. I look forward to the next page or pages of your Costume Odyssey '08. Enclosed are some pictures that I hope you're able to enjoy, between the deluge of others, your own postings and other work, plus dealing with two young children. Keep up the good work, and here's to next year! Cheers,

Zach B,
Sedona, AZ

Please read page 3 of the Cockeyed.com Halloween Costume Contest