Item #17 on the list was a bag of potting soil.

A ten-quart sack of Supersoil was $2.97 at Walmart, easy enough. However, when I checked Target, all of the sacks were 8 quarts. It is tough to compare these prices, but because there wasn't quantity equality.

If you just compare the prices, Target wins, because their bags of Garden Place potting mix were just $2.49.

By price/per quart, Walmart wins, as they charged about 30 cents a quart, to Target's 31 cents.

But, a Target fan might argue, Walmart "makes you buy more", and that if you wanted volume discounts, you would probably just buy a two cubic-foot bag for $12 and pay just 20 cents per quart.

I think the fairest way to compare these two prices is to recognize a price curve that exists when retailers create package sizes.

For example, here is a package size/price curve for jars of mayonnaise. As the package size increases from 8 ounces to 128 ounces, the price drops from 19 cents to 8.5 cents per ounce.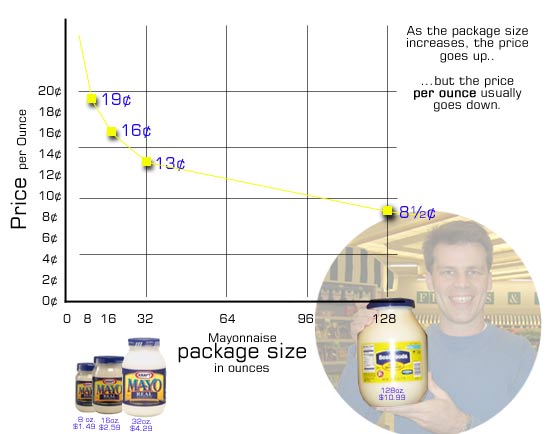 To be perfectly fair when comparing the 8qt. Target bag and the10 qt. Walmart bag, I would have to generate a group of curves for different products and compare the slopes of their package size/price curves. I didn't do that. I also didn't buy that gallon jar of mayonnaise.
For potting soil, I'm going to call this comparison a tie.
Item #17 - Bag of Potting Soil

$2.97/10

Draw

$2.49/8