Lisbon, Sintra, Évora and Seville
Wednesday, August 25, 1999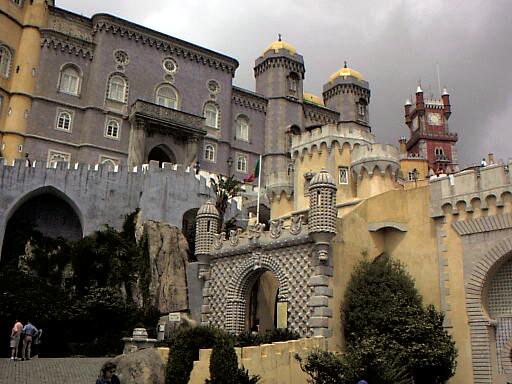 Today Matt and I took a day-trip to nearby Sintra. It was a 45-minute train ride that went about 50 miles for $1. In the 1840s, Portugal's Prince Ferdinand (German born) had this kooky castle built at the top of a hill. My Rick Steve's Guidebook describes it as a mixture of gothic, manueline, Moorish, Disney and renaissance styles. It is at the top of a forest hill. Other noblemen built smaller palaces nearby, and they dot the landscape. We started to hike up the hill, but descending travelers indicated it was a nightmare climb, so we decided to hitchhike instead. The first car that passed picked us up! It was a Spanish couple on vacation. Pena palace is amazing. Matt and I shot a ridiculous number of pictures. They didn't allow photographs of the inside, but the outside was much more impressive. The views from the palace are breathtaking, probably the nicest I have ever seen. When we were done with the tour, it got misty, and then began to rain. We waited. After about 30 minutes the rain stopped and we walked halfway down the hill to another sight (site?): The ruins of a 1000 year-old Moorish Castle. It had a long wall that meandered along the mountainside. We climbed all over it. As we left the castle, it started to rain again. We waited for 30 minutes, but it wasn't letting up, so we walked to the main road to catch a bus. The bus was packed, and it was $2.50. We took it back downhill, got a greasy snack at the train station, and headed back to Lisbon.
We relaxed for an hour then went to hook up with Matt's friends for an evening of live Fado music. The exhausting trek ended in disappointment; his friends had left for the evening just before we arrived (this may have worked out in my favor, as I probably would have been subjected to an entire evening of Spanish conversation). We sat in their posh hotel lobby for a while, then went to eat Tele-pizza instead. Tele-pizza delivers pizza on scooters, but you can eat inside too. Matt informed me that Tele-pizza is a Spanish company that has expanded into France and Portugal, crushing Domino's pizza in the process. The pizza was good and cheap, thanks to Matt's coupon. The beers were 75 cents, and for some reason, two of them had me reeling. We took 75% of one pizza home for breakfast. Raul and Matt considered stopping on the way home but my bed was calling, so I dragged us home. My legs were definitely brutalized that day.
Thursday, August 26, 1999
Matt and I woke up and agreed to stay off of our feet as much as we could. Raul came with us to the Azulejo (Portuguese tile) museum. Because he restores artwork, he gave us a cool commentary on the displays in the museum. I thought we couldn't take pictures, so I took about six. I grew up around tiles and ceramics, so it wasn't the most enlightening museum in Europe, but Lisbon is THE place for tile. Next we took a bus home and ate cold pizza and wrote postcards. Raul continued his quest for an apartment. After a while we took a ferry across the river to get a look at Lisbon from the water. I bought some deodorant and we came back.
Sometimes I wonder if days like this are too boring to include in the journal.
Matt and I searched for Internet access as the sun went down, went around in circles, asked everyone in town, and finally found a place. Afterwards we joined up with Raul and went on a fruitless search for Fado music.
Friday, August 27, 1999
We packed up and went to the bus station. Raul was going back to Spain; Matt and I were bound for Évora. It was a two-hour bus ride that was supposed to take 3, so we arrived before noon. It was hot. The bus station was new, which meant that it was clean, but that we didn't know where we were because the tour-book was out of date. Matt called a few places in the book for a room, and we were off. Matt wasn't sure how long it would take to see the sights of Évora, so we were going to try to see everything in this one day. We quizzed two backpackers about lodging and they told us about a good place down the road. We found it and checked in.
We saw the whole town in 2 hours. It was dinky. It had two sights: ruins of a Roman temple, and the super-creepy Chapel of Bones. The Chapel of bones was next to a nice church with disturbing mannequins of Christ and Mary. A guy with an extremely long tongue showed us the way to the chapel. Then he started moaning. We left.
Some crazy person or persons built the chapel a long time ago. They were monks. It was the catacombs all over again, but smaller and with more decoration. This was the first time on the trip that I couldn't attribute curious behavior to culture. This was bizarre. Matt was disturbed too. People had their kids in there. It was extremely freaky.
Matt mentioned that there were pre-historic cave paintings and stone-arrangements nearby and suggested that we could go see them tomorrow. We stopped by the tourist office and saw that they were within biking distance, so we bought the map-book and went to the park to see how much the bikes were going to cost and maybe reserve a couple.
They didn't rent bikes anymore.
We found an Internet place, but it didn't open until 8pm, and through the mail slot it looked like it only had one computer. I stuck my camera into an overhead window and snapped a picture of the interior, to see if there were any more terminals.
"Hey!" a guy yelped inside, and I ran down the alley (picture 42). We changed our clothes before we came back that night.
An outdoor concert was in full swing when we came back for dinner. It had smoke machines and flamenco dancing, I think. When we got to the Internet place, they didn't recognize us, but the place was pretty much a bar with 2 computers in it. We chatted with a couple of Italian girls who were in line for the Internet behind us. The two bastards on the computers hogged them for 90 minutes each. Luckily beer was only 75 cents, and the Italian girls spoke English. Just as it was my turn to go online, Matt reminded me that our hotel closed its doors at 1am. It was 1am. We ran home, spotted the innkeeper and got inside.

Saturday, August 28, 1999
Saturday was a genuine travel day. All travel all day.
Matt was bound for San Sebastian, stopping a few places on the way. I forget where exactly, but his bus left at 8:40 am, so we got an early start. I had decided to go for Morocco. I wasn't sure the best route, so I bought a ticket to Faro, a little town on the south coast of Portugal. It was about a six-hour ride through the brown countryside of Portugal. There were piles of curly cork bark, stacked like cordwood. Also there were cornfields, grapevines, lemon trees, stands of bamboo, and forests of cactus.
When I reached Faro I walked to the train station and got the low-down on a path to Seville. It involved a train ticket for Villa Real, S.A., then a boat ride across the Guadalquivir river into Spain, then a bus trip from Ayanorte, Spain to Huelva, and a train from there to Seville. I bought the train ticket and waited. I lugged my pack around Faro; a crummy little town with a beach until my train was ready to leave. I caught the train, then the ferry to Spain. In Ayanorte I met Michela, an Italian woman looking for the same bus I was. She was travelling with a little kitten from Tarifa. We were too late; the last bus had already left. I considered myself stranded for the night, but she needed to make it to Seville because tomorrow was the last day on her rail-pass. She spoke a little English, French and Spanish. Before long we were hitchhiking to Seville. I picked up a scrap of cardboard on the road and made a little sign with a Sharpie. She must have looked pretty harmless with that kitten, because the second car that drove by picked us up! He was going all the way (100 miles) to Seville. We were overwhelmed by our good fortune and spoke scraps of Spanish, English, Italian and French to Pepe, our gracious driver. I had a dumb smile on my face for the whole trip.
Night fell and we arrived safely in Seville. Unbeknownst to us, Seville was hosting the 1999 IAAF World Championships in track and field that weekend, and was booked up solid. He dropped us off at the train station near the center of town. We called a few places and found a bed in the Gothic quarter, but by the time we got there it had been sold. We proceeded to hike around town looking for a bed until almost midnight. Michela had very little money, so we were bargain hunting too. This sucked, but it couldn't take the shine off of our hitchhiking glory.
The cute little kitten woke up halfway through the night and played with everything in the room, driving me crazy. I survived.
Sunday, August 29, 1999
On Sunday morning Michela and her devil-cat left for Barcelona. I got breakfast and caught the end of the woman's marathon; I was at the 30-Km mark. It was cool, and the crowd had thinned out enough to get some decent pictures. Applause broke out whenever a runner came by.
When it was over, I went to the train station, then to the bus station. It was hot, so when I spotted the leftover bottles of athlete's water, I tore open a box and handed some out. I helped myself to three bottles.
My bus for Tarifa didn't leave for a couple of hours, so I hiked around Seville. There is an awesome cathedral in Seville, and a number of other aesthetically pleasing buildings. I took pictures.
Tarifa is a little resort town on the southernmost tip of Spain.
My Rick Steves guide recommended it as the best jumping-off point to Morocco. The bus ride there was uneventful, except for some toll-road collection booths that accepted credit cards ($4.50). The south of Spain is under construction, and is mostly brown.
Tarifa is a Volkswagen bus-kind of surfer town like Santa Cruz, where the tourists are largely German. The mountains around the town are lined with modern windmills that generate electricity, just like the ones in the bay area (Fremont?). It was hot. I found a room at the 5th place I looked, which isn't bad for a Sunday, the hotel was called Fecundo, and the room had two beds. Two white bands of salt were now on my shirt from the drying sweat near the backpack straps. I planned to buy a ferry ticket the next day to Morocco. I could see Morocco lying just over the water. With the rest of the daylight I strolled around the town, and met Debbie at the castle. She is from New York. She was very happy to meet someone in town that was from the United States. I was glad to meet someone who spoke Spanish.
Debra had a great story about coming to visit Morocco. She had been invited to her New York friend's family home in Tangiers. A few days after arrival, her (female) friend asked if she would consider marrying her brother for US$5000. Debra refused, but I could tell she was toying with the idea. She had come by herself to Spain to escape the awkward pressure in the home.
We hung out at an outdoor café until 2, then I walked her to her nicer, cheaper hotel room. She had convinced me to stay in Tarifa for one more day: A beach day. We ran into a small hotel fire on the way home, where I wasn't the only one taking pictures.
Monday, August 30, 1999
My hotel room didn't have electricity, so I left my battery-charger at the front desk. The room had outlets, but no juice. I woke up late to meet Debbie and left a note on her door. I looked briefly for a cheaper, electrified room, but gave up after 45 minutes or so. When I got back to the hotel room, I found that the staff had tried to remove one of the beds, only to find my bag padlocked to the bedframe. I finally met up with Debbie and we made it to the beach.
The water was very clear, with only a bit of seaweed. Cold water, as it was the Atlantic, not the Mediterranean. An extremely nice beach, but I am not an expert. I showed off my short-sock tan line, and she contemplated joining the 30% of women who were topless.
Yeah, topless.
Topless paddleball, ladies and gentlemen...See if YOU can divert your eyes.
I played it cool, Debra may have been more impressed by it than I was.
No photos, I hope you can forgive me.
After a few lazy hours, it started to get crowded, and I was worried about any skin I missed with the sunscreen, so I left to find Internet. There was none to be found.
Later that night, as plugged the laptop in Debbie's room, I realized that one of the power cords was not attached, and that the electricity in my room was probably working just fine! We went to dinner at an all-night outdoor café Half-liters of Guinness were 300 pesetas (US$2.16).
Tuesday, August 31, 1999
On Tuesday I went to Africa.
The only ferry from Tarifa was broken, so I had to leave from the bigger port at Algeciras. I was anxious to get to Tangiers with plenty of daylight, so I was a little cranky when Debbie made me miss the first bus. We took some pictures around town and then packed up our stuff. She was headed toward Granada and the same bus was stopping at Algeciras first. She missed the bus, but I didn't wait. I realized later that she had my Rick Steves guide.
I met two guys from Atlanta on the bus, Neil and Jason, who were also going to Morocco, and were as scared as I was. They were not going until Wednesday, so we made plans to meet up in Tangiers.
The boat to Tangiers was huge; it took two hours and was fairly uneventful. Upon arrival in Morocco, they stamped my passport (which hadn't been happening much on this trip) and I left the ship.
I was approached by one Moroccan man after another, asking where I was from, what I was looking for, and if there was anything they could help me with. My guidebook had warned me about this gauntlet, and I was ready. I met their questions with silence. Still, they were very persistent, and numerous. Luckily they attacked me one or two at a time, so I was able to escape. They usually walked after me, pestering me with questions. About 15-20 men asked me what I was looking for. Moroccan men and women tend to be tall, this was in contrast to the Spanish. I walked uphill towards the center of town, certain that the attention would dissipate once I got away from the port. One advantage I had is that they didn't know where I was from, or what language I spoke. I was very good at not giving any clues. I didn't have any money yet, so I was looking for an ATM or a hotel.
If you ever visit Tangiers, try to bring one of those protective suits they train attack dogs with.
I passed through a few nasty market areas, where the flies and the smells were repulsive. The sidewalk was tiled stone and hopelessly filthy. It was how I imagine Mexico is in the poor places. I was not having a great time, but I knew that once I found a room, things would be better. I realize that exotic and repulsive are usually on the same street. I stopped at the dumpy Gibraltar Pension and explained in French that I needed an ATM before I could pay. They indicated that was no problem and that the price for a room was 100 Dirhams (US$10). I would have paid that much just to put my backpack down. The room was small, with no electrical outlets, but with a balcony and a very ornate bedspread.
I went in search of an ATM, and just as I was sure they didn't exist in Morocco, I found one. I asked a businessman. People are happy to help you in Tangiers, but I always had the best experience if I approached THEM. I ran into Internet for $1 an hour, and checked my email. Arabic Internet Explorer reads from the right to the left. The Back icon is pointing the other way (to the right). The address window reads from the right. The keyboards had Arabic letters and were in the goddamn French configuration. Mark wrote with bad news about my rent increasing at home in Sacramento. Eric wrote with his adventures in the North and Tara wrote too. They were doing fine. I also checked my dwindling bank account. On a positive note, I hadn't used my Visa card for almost a month.
I was getting hungry, but I was afraid to eat anything. Matt had advised me to eat in only the best places, but I couldn't find anything I trusted. There were flies everywhere. I ate packaged crackers, bananas, and bottled water. I found a posh café, but they only had light food. I ordered a milkshake. It tasted like chilled goat's milk, with no ice cream involved. I ate the croissant.
At home, I paid for the room and talked with Abdul, the 16-year old son of the hotel owner. He came into my room and I showed him photos of Spain I was putting on floppy diskette. He brought me into the lobby to show his brother, and soon five Nigerians were looking too. They were all quite friendly and mesmerized by the pictures. It had the feel of a Microsoft commercial: "Magic laptop in Africa". The hotelkeeper's wife eventually ushered us out of the lobby and I went back to my room. One of the Nigerian guys came in and made me listen to "Hotel California" on his Walkman. As I brushed my teeth in preparation for bed, the water from the faucet turned brown for a few moments. I just laughed.




Sept 1-Sept 7: Morocco | Index of Weeks

Back to main Cockeyed Rob@Cockeyed.com Eric Tara Last updated March 10, 2000. Terms and Conditions Copyright 2000 Cockeyed.com