The last week was Aug 11- Aug 17: Paris and Barcelona
Madrid, Spain and Lisbon, Portugal
Wednesday, August 18, 1999
This day was the one-year anniversary of my Panasonic PV-DC1580 digital camera.
The first thing we did was to visit to the train station to ensure we could get out of Barcelona the next day. It looked like it was going to be no problem, but we couldn't buy our tickets without our eurail passes on us. We ate at Dunkin' Donuts while we did our laundry. We eventually made it to see a Gaudi interior at the Güell Palace near the Ramblas. Photos were not allowed, so I took about six. It was innovative and comfortable, with apparently every square inch designed with a single mind. We bought some cheap sangria in liter boxes ($1.30) and went out to a Barcelona super-club out on the waterfront. It was actually 3 clubs that were very close to each other catering to slightly different crowds. There was a miniature golf course in the middle.
I wonder, is Mambo #5 as popular in the states as it is here?
We spent the most time at Starwinds, and ventured into one of the other ones also. It was called Night-something and had go-go dancers on pedestals inside. One the way out, the elevator doors opened and a guy puffing his cigarette stepped out first. Tara and I couldn't believe it, and wondered out loud if any place was sacred. Eric didn't seem as drunk as he was. We got falafel on the way home. Tara and I kept ours down.
Thursday, August 19, 1999
On Thursday we checked out of Barcelona, ate bagels and bought our tickets to Madrid. We lockered our bags and made one last walking tour through Barcelona. We missed the music museum being open by minutes, but got to the Internet just fine. I got an email from Julia regarding Jen Green's email and street address. Jen lives in Madrid, so this was perfect timing! Unfortunately, the email came back to me, and all I had was her street address. We ate more falafel and split up for a few hours. I typed some stuff up at the seaside mall and prayed for descent access from Madrid.
Soon we were on our train, but we were not on our requested couchettes. Tara took command of the situation and found us some empty beds, but they were $12 extra. We took the beds, but not before meeting some friendly Portuguese guys and seeing them thrown off of the train. The fully loaded walk through five cars to the couchettes was amazing. We were chasing a white rabbit, blazing along a tiny passageway, then through loud double-doors. We streamed past bizarre people and scenes in each car. I was laughing at the view, shoving Tara in front of me and being shoved by Eric. We reached our new quarters, woke everyone up, and went to bed. The Spanish girl in the bed above me was studying a chart of Episode One characters. About thirty minutes into the trip we passed curiously close to a nuclear power plant.
Friday, August 20, 1999
We reached Madrid at about eight in the morning. We put our big bags in lockers so that we could look for lodging unencumbered. There were about 100 taxis gridlocked outside the train station. We already had money that worked here, so we were quickly on our way. We headed for the center of town, marked by a subway station called Sol. We found lodging immediately. A nice room with 3 beds and a sink. We scouted out the town, knowing there wouldn't be bagels here. We were right.
We killed some time until the room was clean by touring the city on foot and buying some bread and drinks. Everywhere we went we saw flyers advertising CD ROM duplication for 800 pasetas ($5.25). My dreams of decent Internet access were rekindled. We went back to the train station to retrieve our bags. When we arrived back at the hotel, our bread and soda were gone. I consulted with the cleaning woman in sign language, then drew a sketch of our unopened bottle of Fanta and loaf of bread. She apologized, made hand-motions regarding their fate, and asked how much they were worth. She handed me 500 Pasetas.
Tara and Eric took a nap and I went in search of Jen's house. I had luck...finding her house. I slipped into the building and checked her mailbox for a name. Her name was on the box! I found her door, but there was no answer. I left a note on her door that explained I was in town and that I would stop by again at 9. I didn't have her phone number.
I got back the hotel and Tara woke up. We bought more bread and Fanta and went back to the hotel. Eric woke up and we discovered the peanut butter and jelly were missing too. They must have been taken in the bread & Fanta heist. We gave up on making food and went out to dinner at a burger/smoothie place called Vitamina. The smoothies all seemed to have at least one unexpected ingredient, avocado, coconut, egg and rice were the ones I was trying to avoid. The place was nice, but at least half of the people inside were smoking.
I made another trip out to Jen's house, but I couldn't get inside the building this time. I was beginning to doubt that we were going to meet up at all.
We found cheap Internet access in a tiny crucible near our hotel and found good news: An email from Jen! I called her and was happy to find that she was home and happy to hear from me. I believe she called it the "best surprise ever". We made plans to meet the next day in Sol by the bear statue.
Saturday, August 21, 1999
I met Jen downstairs. I hadn't seen her since her wedding so we had a lot to talk about. She had some gift shopping to do, so we walked around Madrid's air-conditioned stores first. She bought Susan Sullivan a Pooh-bear set of towels and furry top hat. Just kidding.
We talked about Spain and Madrid, and what it was like to work in a foreign country. I complained about the total lack of trees in Madrid. She was leaving for the US on Monday, so I really was lucky to catch her here. After her shopping, she took me through Plaza Mayor; past the neighborhood called Latino. She showed me the palace (from the outside) and some great views around town. She also showed me the Museum of Ham. We agreed to meet later for dinner.
When I got back, Eric and I visited the Reina Sofia Museum. It had some nice Spanish surrealist paintings, including about 10 Dalis and a number of cool modern works. Photos were not allowed, so I only took a few. My tolerance for museums has dropped considerably, so after an hour I was ready to leave.
We met Tara (who had been shopping) at the Internet inferno and told her about an air-conditioned place we had located on the way back from Sofia. The air-conditioned place was plush, plastered with Lara Croft and Starcraft posters, with good speed. Their vending machine had beer. We stayed for an hour and a half.
After a shower, we went to meet Jen. It was Saturday night, so there were a ton of people out. It was fun. We met a drunken bachelorette with an unforgettable penis-helmet on. A few restaurants had standing room only, so we wandered a while. We settled at an Irish pub that had great food. We drank Guinness and Cider. After dinner we walked a bit more and went to a little café. At the café we sat and talked. Jen listened to our travel stories and plans. We told her that we had decided to try travelling apart for a while. She was not too surprised, given the hardships of travel, that we were getting on each other's nerves. We assured her that with our individual email addictions, we couldn't lose contact with each other.
We noticed it was two in the morning, and walked home. Jen caught a taxi.
Sunday, August 22, 1999
I woke up the next morning, nervous about the upcoming day and weeks. We checked out of the hotel and headed to Pans for breakfast. We discussed our plans. I was going west to Lisbon, Portugal. Tara was heading for east, to Italy, by way of Nice. Eric was heading North, to Geneva and onto Norway. We bought separate train tickets and showed them to each other. We were all leaving within a few minutes of each other on various night-trains.
After checking our baggage, I went to say goodbye to Jen. Tara and Eric went shopping and we agreed to meet at the bear in 90 minutes. I met Jen and we got a chocolate shake at VIPs. I did some quick troubleshooting on her Outlook Express for old-time's sake. I was hopelessly late to meet Tara and Eric, so I blew them off and went to the Internet place instead. It opened at 5pm, and soon after arriving Tara and Eric showed up. They were annoyed that I made them wait for 2 hours by the bear. I still can't believe they waited by the bear for 2 hours! We used the Internet for another hour and a half. We stopped by the bookstore for a travel guide and Fnac for a flash battery. We walked around town, waiting for night to fall. We wasted a tiny bit too much time before going back to the train station. Tara lost the ticket to the luggage locker, but the staff got it open in time for her to catch her train. We said a nervous and excited goodbye. I left Madrid 20 minutes later in a sleeper car, bound for Lisbon. We will meet on the plane back to San Francisco on October 5. Perhaps earlier.
Monday, August 23, 1999
I woke up alone in Portugal. At the train station, I was offered hashish almost immediately after I got off of the train. Lisbon has many people that try to sell you hash on the street. They would continue to offer me hash for the next four days, about 4 times a day. They usually flashed a Skor bar-sized slab and asked "hashish?" It was always an Indian man.
I passed an automatic french-fry vending machine on the way to the ATM machine. I ran into someone I knew. It was Matt from Davis, CA. Pam and Marc's friend. I couldn't believe it. (If you know Matt, please don't tell Marc or Pam I ran into him, because that would spoil the postcard joke! Also, I have his email address if you want it.) I had only been alone for about 10 hours! He had arrived on the same train, but he was coming from a wedding in Ocarna. He had met a Spanish guy on the train who was familiar with Lisbon and we three went to find a pension together. Raul (Raoul) speaks Spanish and some French and Portuguese. Matt speaks Spanish and English. I speak English and a bit of French. Matt did a lot of translating in the next 4 days, and I leaned a lot of Spanish.
We all needed Portuguese escudos. The ATM machine didn't like Matt's or Raul's card. We tried all the ATMs on the way to the pension. Raul had luck, Matt would have to suffer penniless until almost 4pm.
We found the pension, and the price was pretty good. We assured them we would pay later. The place was posh. Better than what I was used to and much better than what Matt was used to, having been in Morocco so recently. It had towels, soap, a great balcony view of Praça Figeroa, a TV room, three monstrous common bathrooms and a steam-press for your clothes. Raul was here to find an apartment for his upcoming job with an art-restoration project in Lisbon. Matt and I were here to take photos, so we spent the day doing that.
First we went to Praça Comercio by the water, then the Cathedral. It was nice and huge, with a cool set of pipe organs, but the real treasure was in the cloisters. There was an archeological dig going on, and they were unearthing Moorish ruins beneath the Cathedral. Beneath the Moorish relics were Roman, and finally Phoenician ruins. We had a great view of the dig.
Matt had visited Morocco with his girlfriend a week ago, and he wowed me with his many stories of photo opportunity.
Next we deciphered a Portuguese menu and had lunch. I had the US$4 cod with oily potatoes. Afterwards we found the Castle at the top of town and got some great pictures before my batteries ran out.
We bought some snacks and met Raul back at the room. The three of us went to dinner. We all had cod.
Tuesday, August 24, 1999
The big bathroom at this place was amazing. It had a balcony.
Raul went apartment hunting again while Matt and I toured. We took a rickety streetcar to the Belém side of town. We each took a million pictures of the Jerónimos Monastery where Vasco De Gama is buried. It was overrun with tourists. The cloister here was rad too. We ate falafel and went next to Belém Tower, on the Tagus River as it joins the ocean. We took the guided tour in English. It was just Matt, myself, and the sexy tour guide. Afterwards we went to the Monument to the Discoveries, a giant monument from the 1960s that illustrates how great Portugal used to be.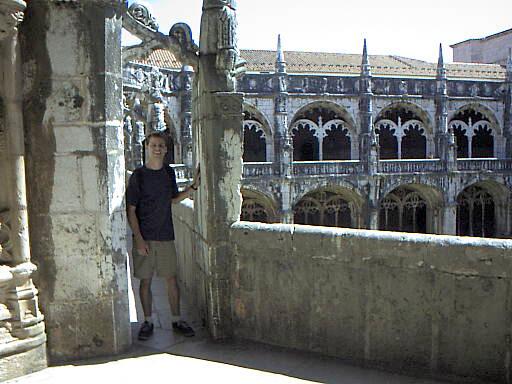 We were too late to visit the Coach Museum, so we had a 50-cent cone at McDonald's. On the way back to the pension, we ran into more of Matt's friends! They were in Lisbon for the end of their honeymoon. We got their room number and planned to hang out Wednesday night. Next we ran into Raul. We all went back to the pension together, but the door was locked, and no one answered the bell. I panicked for a minute because I had to use the amazing bathroom. Matt reached inside the iron bars, but couldn't open the lock. I reached in with my super-camera and took a photo (photo 93) to help get a better idea of how the lock opened. Matt gave another try and opened it right up. I was James Bond for the next 15 minutes.
Aug 25-Aug 31: Lisbon, Sintra, Évora and Seville | Index of Weeks
Back to main Cockeyed Rob@Cockeyed.com Eric Tara Last updated March 10, 2000. Terms and Conditions Copyright 2000 Cockeyed.com