Back to Lisbon, Sintra, Évora and Seville
Morocco
Wednesday, September 1, 1999
I wanted to go to Marrakech, but I found out that it was a 12-hour journey, so I decided to go to Fès instead, I decided to spend one more day in Tangier first.
I spent the morning wandering through the nasty streets and marketplaces. The concentrated marketplaces are called "medinas". That might mean "center". I took stealth pictures, and was left mostly to myself. I checked out the Casbah, where I found the tour-groups wandering and the snake-charmers on coffee break. I finally got into a conversation with a friendly man who wanted to show me around. He wanted to help me into his shop.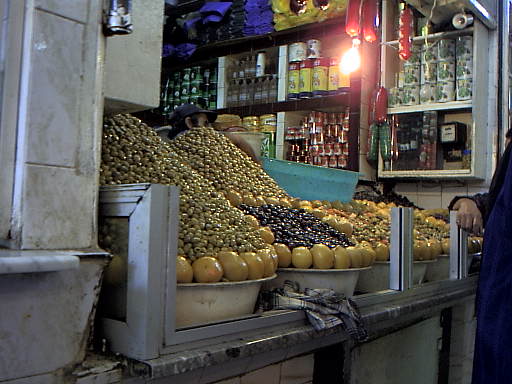 He kept pointing things out and explaining them to me, "These houses are covered with tile, which is a Moroccan style", "people use these clay pots to store water", "this knob is for opening the door". He was driving me mad, but I was sure he would give up soon. I had a hard time losing him. He was very, very persistant, and simply insisted that I look inside his shop. He had his hand on my arm. I refused, literally 20 times before I got angry and started yelling at him. Perhaps this is the Rob you know; "No! NO! NO! I am NOT going into your shop! Never! I don't want any of that stuff! I am leaving! Leave me alone! GOODBYE!".
I happily uploaded a bunch of pictures that day, and got a little braver about eating. I was supposed to meet Jason and Neil, but the agreed-upon meeting place didn't exist, so I missed them.
I broke down and took a picture of the squat-toilet hole in my hotel
The movie theatre was playing a Liam Neeson film, but it was Rob Roy.
I bought souvenirs and gifts for almost the first time on the whole trip. I got Leif and Dad some fuzzy top hats and Garfield shirts. Just kidding. The price of everything was determined by how you looked, so I had to bargain. I was never sure if the price I got was good, but it was usually about half of what the first asking price was. I was better at walking away than I was at bargaining. One guy refused to tell me a price of a shirt for about 15 minutes, I had to try it on and look in the mirror, and examine the fine stitching, and look at his accounting ledger before he told me the price. I knew there was no way I was going to buy that shirt by the time he told me the price, $35. I would have paid $12, and got him down to $20 before I gave up and left.
That night after night fell I was feeling trapped in my room. Abdul invited me to go walking around with him and his brother. It was cool. They were telling me which girls I should approach, and how much things should cost. They shared a 15 cent cigarette. I finally saw one of the streetside orange-juice vendors Matt had told me about: a glass of fresh squeezed OJ for 3 dirhams (US$.30) I had 2 glasses. They showed my camera off to a group of family-friends they ran into. They bought bread. They held hands sometimes, as I had seen other men in Morocco doing. We wandered around for almost an hour before we headed home. It was cool.
Thursday, September 2, 1999
There were cockroaches in my room.
I bought a ticket to Fès on the CTM bus lines, because the train didn't leave until nightfall. On the way to the bus station I was met by a few wandering souvenier salesmen. I was encumbered with backpack, but I was hungry for more weight. I bargained with one guy selling leather wallets, and we settled on 25 Dirhams (US$2.50)for the one I wanted. He couldn't break my 100 note, so he started waiving it at other vendors on the street, looking for change. When he went inside a little maze of shops, I followed, and when his feet started into a run, I waded after him and yelled for help. He was taking off with my 100D note. Immediately, the shopkeepers fell upon him, held him, and brought him to me. They were all yelling at him in French and Arabic and Berber. I guess he had shamed their city/culture. He and I were face to face, and he had that "hey! No problem here! I was just getting some change for you!" look on his face, but we both knew what had happened. I called him a dirty thief, and tried to take his photo, but he held up his hand. I got the wallet, and my change and he got his 25D. When I left, the shopkeepers were still yelling at him. I wonder what the punishment for theft is in Morocco.
The bus left at noon, due in Fès at 8pm. I was a little worried about arriving after dark, but Matt had drawn me a little map of good places to stay. The wages for bus drivers in Morocco are figured by adding the number of times they honk the horn in the city and the number of times they veer into oncoming traffic in the country. At the halfway point in the trip, we stopped at a pitiful roadside café. I chatted with an English couple who clued me in on the television smuggling that was happening on the bus.
I made it to Fès and was asking the english couple for some orientation when Maria and Mabel came over and asked me if I knew where I was staying. I showed them the little map Matt had made, and we all followed the english couple outside the station. They set us in the right direction, and we three set out to find the Hotel Polais.
Mabel and Maria are beautiful Spanish women, with an impressive pair of backpacks.
The three of us were greeted by about half of the people we passed on the way to the hotel.
"Hello!", "Bonjour!", "Hola!", "Where are you going?", "Monsieur! Madamoiselle!". Men and boys whistled and smiled at the girls, and the kids concentrated on me. It was absolutely unbelievable. It was literally as if we were movie stars on the way to our movie premiere. It was constant, more good-natured than Tangiers, but totally overwhelming. Tons of people were out on the streets on our path to the Palace. They liked us. I followed M & M's cue and ignored almost everyone. Look straight ahead, and do not stop, they told me. It was pretty exciting, but I wanted to find the hotel. Fès was like this for much of the stay, but Thursday night was simply unreal.
M & M were looking for a cheap place to stay, but I never dreamed how cheap the Hotel Glasier would be. It was 35 Dirhams per person. That is US$3.50. I had my own room!
A hotel for $3.50!
I had paid more for storage lockers! I tried not to laugh when she told us the price, but I had a big smile on my face for the rest of the night. $3.50, fuck! The room was small and bare, had no electric outlets, and the only window faced into the lobby, but I had a great night.

Mabel and Maria changed and met me in the lobby. We went and had a late dinner, walking through the gauntlet again.

I bought a Coke, and I made the mistake of stopping when a pack of children approached me. They wanted Coke. I held it away, but not quickly enough, and they squeezed the bottle until it shot out of the top. They shreeked, and I dropped the bottle as my arm was showered with Coke. I ran to catch up with M & M. Look straight ahead, and do not stop.

We had pizza and roasted chicken. It was about four bucks. Beer was not available.

Mabel and Maria were going to Marrakech, and they wondered if I would go with them. I couldn't say no.
Friday, September 3rd, 1999
The 35 Dirham hotel had a shortcoming: The shower was a nightmare. It was a hole-in-the-ground toilet that had been covered with wooden slats, upon which sat a wet, horrible, nasty, black fiber mat. It reeked like a toilet, and the water was cold. To add insult, it cost 3 Dirham.
Maria and Mabel showed me the graveyard view from their room.
We bought night-bus tickets to Marrakech and stowed our bags at the station. We had the day to spend in Fès, and we started it off with some Fresh-squeezed 3 Dirham Orange Juice. Fès was a much more open, European-feeling city. I was comfortable here.
We headed to the medina, got lost, and inadvertently hired our first guide. He spoke Spanish, and led us into Fès' narrow-corridored medina. Most of the streets were about as wide as a fully-loaded donkey, and the walls were quite tall, so it felt a lot like a maze.
Our guide led us in and around a bit, showed us the leather-tanning pits. The pits were best viewed from the top of a leather-goods showroom. We got a quick leather-goods sales pitch, but didn't buy. 1000 stairs later, we saw the city's giant mosque, capable of holding 20,000 people. We were not allowed into the mosque, so we went onto the roof of another building to get a view of the top. The building we were on top of was a carpet showroom. We got a heavy-duty carpet sales-pitch, but left with all our money. We made it out of the maze about 2 hours later, exhausted from the climbing. Our guide indicated that 100 dirham would be enough for his services. We paid him 50, and left feeling we had been swindled. We ate lunch, Mabel found a bug in her salad. I bought a lamp-socket-to-electrical outlet converter for 6 dirhams and then got a haircut for 30. There was no internet. We talked about America and Spain until night fell. Lightning was flashing in the sky, but it never rained.
Our bus to Marrakech left at 9:00, and there was a bit of confusion as to which bus was the right one. We got off of the bus to Paris, and onto the right one just in time to rescue our luggage from certain deportation.
On the journey to Marrakesh, we passed two car accidents.
Saturday, September 4th, 1999
The bus arrived in the early morning light, and again we had a map from Matt about where to stay. After a hike we found a hotel with a room, and this time we stayed in a triple room for $9 a night.
The room had electrical outlets. M and M got a big kick out of my thirst of electricity. I began charging the laptop and camera batteries and we all fell asleep. I woke up at 2pm and had a hot shower. We made it out of the room and got a very cheap lunch: Roast chicken with rice and a salad and bread was $2.40, and a giant ice-cold Coke was sixty cents. A side of green and black olives was 30 cents, a side of french fries was 30 cents.
The shops in Marrakech were appealing, and the shopkeepers were still relentlessly persistant.
We visited the royal crypts, which were in a small park-area. They were nicely displayed, but not creepy at all.

Marrakech had a large, open medina called Djemaa el-Fna, or Place of the Dead, because that is where the executions used to be held. At night the place came alive with crowds, games and street entertainers. It had open food booths and a line of orange-juice squeezers. Smoke rose from the center, where open fires roasted chicken and other meats. It was quite a scene to behold. I took a couple of photos, but it was dark, and I couldn't find a snake-charmer. I didn't take a picture of the boxing kids, because I thought it was too disturbing. They were each about 9 years old, with red gloves swinging hard. The medina was filled with half tourists and half locals. Mabel bought sandals. She knew how to bargain.
Sunday, September 5th, 1999
On Sunday morning, the girls went shopping and I washed some clothes and typed. I had delicious lemon tarts for breakfast. Maria returned triumphant, she had found a snakeskin at a bargain price. 500 Dirham, which was about the most any of us had spent in Morocco, for a tanned snakeskin that was 12 inches wide, and 11 feet long. It was as thick as cow-leather, and quite a sight to behold. I wondered if I could get one into the US, and what I would do with it if I did.
Marrakech was the land of mopeds.
We went for a long walk. We saw the Koutoubia Mosque, with its 12th century minaret. We walked to a sort of odd park called the Jardin Menara. It consisted of a small building on the edge of a reservoir, surrounded by a large grove of olive trees. It was disappointing.
We took a different route back to the city, the super-duper long way. I pulled my camera out at one point and it slipped out of my hand. It tumbled along the sidewalk and came to a stop in one piece. I stood still, horrified. Mabel and Maria had their hands over their mouths, shocked, waiting for me to start crying.
The lens cover that usually slips into place when I turn the camera off was half-open. I nudged it shut with Maria's knife, and it clicked into place. It worked. I thanked God, and Allah, and everybody at Panasonic. I kissed the little LCD screen and promised to take better care of my little camera in the future. #15 was the picture I took.
We finally made it to the train station and checked out our departure options. On the way home Maria said "Yo Quiero Taco Bell" and asked her where she had heard that from. She has a little talking Taco Bell Chihuahua someone brought her from the states. She thought Taco Bell was dog food. I got a big laugh out of that. We had dinner at the restaurant with the cheap chicken and did some more shopping.
Monday, September 6th, 1999
We had crépes for breakfast at the chicken place. We packed up our stuff, paid our pitiful hotel bill and took a taxi to the bus station. We were going to the beach at Essaouira, a small town on the coast, with minimal supplies. Unfortunately, the station wouldn't hold our luggage unless it was securely locked, so I was the only one who got to leave his bag.
A guy at the station had a cell phone and I realized it was the first one I had seen in days. I saw only a few in Africa.
Essaouira was two hours away by bus. This bus was air-conditioned and they played music. I heard Hotel California and Mambo #5. Gas was $1.85/gallon.


When we arrived we found a great room with a view of the ocean. We saw the fishing boats and some scary seafood huts near the dock. We ate elsewhere and dealt with Morocco's lamest waiter. We walked along the beach, toward a broken castle in the sand. Apparently this is the one Jimmy Hendrix wrote about, because he stayed in Essaouira many times. It was a long walk. The water was shallow for a long way into the ocean. Locals were playing soccer on the beach, and people stayed fairly covered up. We only saw one bikini. There were surfboards and camels. After about 40 minutes we reached the castle and sat there until the sun set, interrupted by only one local.
The sunset was beautiful. When we got back into town it was dark, so we hung out at a little café and drank coffee.
Tuesday, September 7th, 1999
On Tuesday, it was time head back to Europe, through Spain and France and into Italy to meet Tara in Florence.
I took a shower, it would be my last one until Florence on Friday.
The first leg of this trip was a bus back to Marrakech. It left at four, so we had time to get breakfast and do some final Africa shopping. We wandered by another fish-market.
I tried to estimate how many Dirhams I would need to make it out of the country, but withdrew way too many.
On the bus I met Emily, a woman from New Hampshire who was on her way to her post in Tinjdad, on the east side of Morocco. She was starting her two years there in the Peace Corps. She was excited to get started, but when she offered me one of her paprica-flavored Pringles, I knew these were the last Pringles she was going to see for a while. She was worried about how hot it was going to get, and wondered how she was going to get there before dark. We talked for the whole trip, in American-english.
I retrieved my bag and we bought tickets for the night train to Tangiers. Maria and Mabel were nearly out of money, so we got 2nd class tickets. This turned out to be a big mistake. The train trip was about the worst voyage I could imagine. I believe the train was used to transport prisoners in Mexico before it was retired to Morocco. It was dirty, the ground and windows were covered with dust. The seats had about a centimeter of foam on metal benches. The sliding door that seperated our compartment with the next was off of it's rollers and made an awful screeching sound whenever someone walked through it. We were sitting next to the toilet room. The toilet was a seat with a hole in the bottom, straight down to the tracks. There was no paper, and the water didn't work. This immediate elimination of waste didn't stop the car from reeking horribly of urine whenever the train left a station. The train's old brakes only allowed for bone-jarring stops. The train was full after a few stops.
Luckily I had Maria and Mabel to keep me company, as well as Paul, a traveller from New Zealand. He wowed us with his tales of hiking through the Atlas mountains, through vast fields of marijuana plants, growing 15 feet high. He bought some packaged pastries called Spofy, and laughed at the name. He claimed "spof" is another term for ejaculate in New Zealand. I got a photo of the package. We talked until midnight, then tried to get some sleep. At every stop, freelance vendors would walk through the train with baskets of food, announcing, "Apples for sale!" Apples for sale!". I wanted to kill all of them, but it was really one of the most pitiful things I have ever seen, a man walking through a train at 3am, trying to sell apples, probably for 4 cents a pound. This country could use some help. We stopped at Casablanca and at the flaming oil refineries of Sidi Kacem.





Sept 8-Sept 14: Florence | Index of Weeks

Back to main Cockeyed Rob@Cockeyed.com Eric Tara Last updated March 10, 2000. Terms and Conditions Copyright 2000 Cockeyed.com