Trophy night was May 26, 2001.

Run a site like cockeyed.com for a few years, and strange fortunes will find their way to you.

On March 30, 2001 My co-worker Jim Fisher asked if I could figure out something to do with all of his old trophies. He and his wife were long-time gymnasts from the 60s, and had amassed a collection of trophies. Unfortunately, they had lost their luster over the years, and had simply been sitting in boxes in the garage.
I'll take them, I said. At the time I figured I could bedeck my hood with a fabulous array of ornaments. I thought perhaps I could sell them on ebay.
He asked how many I wanted. When I said "all of them", he looked at me silently for a minute.
"They aren't all going to fit in your car".
He brought them to work in four big storage boxes, which I did manage to get in my car. I was giddy with the possibilities. They ranged in size from 5 inches tall to 3 feet. There were 62 trophies in all.
About half had golden handstanding gymnasts on top. The other half had wreaths, angels or cups.

One in particular I wanted to re-plaque and award to the hardworking folks at theonion.com. "Best fucking website 2001". I cleaned it up & went to the mall to get a new plaque made, but at "things remembered" a new plaque was $47! Damn. I knew I could beat the price online. I searched one out & found a much nicer $12 price at signs by gwynn. I filled out the online order form, but was disappointed the next morning to find that it was rejected for the bad language! Below is the ALL-CAPS email I got: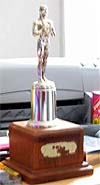 I'M SORRY WE ARE NOT ALLOWED TO ENGRAVE SOMETHING LIKE THAT ON OUR PLATES.
IF YOU CAN REWORD IT WE WOULD BE HAPPY TO DO IT FOR YOU.

THANK YOU
SIGNS BY GWYNN
Among a few mediocre ideas, a great one emerged: giving the trophies away on the streets, with new labels like "biggest hat", "best parking job", "tallest girlfriend". Things that people would ALMOST want to win. I planned on making some cheapy labels on my P-touch label maker to re-task the bevy of "3rd place, Northwest Regionals Team competition" trophies.
This idea took shape pretty quickly, but I wanted the original "free milk night" team of Leif, Stacy and Brooke together to hand out the trophies, so I had to wait for everyone to be available. After waiting 3 weeks for Brooke to finish attending entomology field trips, Leif had the nerve to schedule his damn graduation on the same damn night! We had to proceed without him.
I bought a wheelbarrow, packed up trophies & headed with with Jennifer to San Francisco
We met up with Brooke, Mike, Mark, Stacy, Tom and Amy, and made our way for The Tonga Room, a tropical-themed restaurant. Elise and Steven met up with us there. At the Tonga room we steadied our nerves with some exotic beverages & I printed out some last-minute labels. It was also Amy's 21st birthday, so we were double-celebrating.
By twelve thirty, I was anxious to give out some trophies, so we paid our massive bill and went back to the parking garage to pick up the goods. I loaded the wheelbarrow and we set out upon the streets of Chinatown. Before we were even out of the parking lot, we spotted our first big winner! the MOST COURTEOUS DRIVER stopped for my overflowing wheelbarrow!
"CONGRATULATIONS!" "YOU WIN!" Brooke ran over to the driver's side and handed him a nice big trophy. His face broke out into a smile as we laughed and applauded. We let him know he won for the "most courteous driver", and quickly moved on.

Jennifer was put in charge of operating the camera, so my hands were free to hand out the goods. It was 1:15am, and the odds of finding happy, drunken people on the street was pretty good.

The second winner was the "BEST HAT" above, and the next came two enthusiastic young women on the right won first and second place for something. Each trophy got a shout of "you win", congratulations" "first place!" and a round of applause. People love to win, and everyone was a winner that night.

That is Mark wheeling the barrow to the right.
Here Stacy presents a nice man with an awesome trophy. I think he got "Best Smile"
Most people were proud to win.
As we hit Broadway there were more people and the pace picked up a little. Oh well, no one likes a long awards ceremony anyway.
Here Mike, Mark and I congratulate the man in the hat for his "best of show"
Mark and Stacy are in back of this proud winner.
This guy won for something. He certainly wooed the judges!
This guy won for best artwork by a really stoned guy.
This guy on the right was very confused and interested in what we were doing with all these trophies. He didn't really get it, but he deserved a second trophy for MOST CONFUSED.
This woman won for .....ahh.....best musical, I guess.
Some people liked to have the trophies for a few minutes, but weren't really interested in holding on to them. I had to convince these women to keep their trophy, but I am sure they found some winners of their own that evening!
Winner! Things were going great! We were handing out about 5 trophies per block.
Another Winner! (with Brooke)
This big winner knew how to celebrate! I think he won for best scarf. That is Brooke in the corner.
These four are standing next to a funny sign, but who cares when you are celebrating?!
Tom with the "Best Mustache" winner
This guy on the right won something having to do with 1980, although I can't remember what...
This guy had to come downstairs to collect trophies for his balcony-dwelling teammates.
This proud winner brought a Limousine to trophy night.
Here I am, celebrating. I had already given my gold medal away at this point.
Remember in the year 2000, when those Oscars got stolen, and were then recovered in a dumpster? I wish I had found them instead.
Best new band or artist
Most Suspicious
Brooke with a proud, albeit a bit cocky young winner.
Oh, he has a lot more winning to look forward to!
This woman was very happy to win. I think she may have been in the drinking contest earlier that evening.
Jennifer with another lucky winner.
Tom and I applaud the efforts of this big winner. He got us singing the National Anthem at the top of our lungs.. which was really the high point of the night for me.
Later we realized he was holding a magazine...
Not everyone can win first place,but hey, fifth-place is nice too!
Brooke and Stacy cheer a big winner.
This photo is a little out-of-order, but he was the first guy to give a speech. About half the winners went on to say a few words and thank some friends. I hugged more than a few strangers. Only one or two people were too baffled to respond.
WINNERS with a little slice of Amy's face.
This is the door-guy at Fuse. He wouldn't let me bring my wheelbarrow inside, but hey, that is why he is the BEST DOORMAN.
BEST FAKE ACCENT with BEST SIDEKICK
These guys loved the camera the most, but they won their plaques for MOST ENERGY.
The guy in front shared his donut with me.
This doorman let Jennifer use the restroom, and was awarded this last trophy of the evening, the lifetime achievement award.
Mark got a little ride in the wheelbarrow.
With the last trophy handed out, and the clock striking two am, we headed back through Chinatown to one of the after-parties.
Trophy night was a huge success. We confused and thrilled the bar-hopping crowds, and unloaded more than 60 trophies.
...but what am I going to do with this wheelbarrow? if you have any suggestions about other things I might give out, please email me.