How much is inside one of those 40' shipping containers? No one knows, because they are always sealed shut. Luckily, they show up from time to time in parking lots and jobsites, so you can get your hands near them.



I first became fascinated with shipping containers when I spotted them mentioned in Civilization 2 as a technological achievement. This confused me at first, but I now understand that before these things became the norm, people spent weeks loading and unloading ships with carefully packed clay urns and cargo nets full of pumpkins. It was a mess. Malcolm McLean is credited as the inventor of the simple but revolutionary idea of a standard-sized shipping container that could be loaded onto ships, railcars and trucks. Invented in 1956, they changed cargo shipping from a labor-intensive enterprise to a equipment-intensive enterprise.
Oh, crap, these stories are supposed to be funny. Al Teich has more information and links if you are interested. Some of these photos are from that website.
Containerized cargo includes every commodity imaginable -- retail such as clothing and electronics, foodstuffs, agricultural products and industrial goods.

Special features:
Hangar beams which allow the transport of garments on hangars without further packing
An extra high payload and extra door-width versions
Bull rings and lashing bars to give your cargo added security
Ventilated containers for crops, such as coffee and cocoa

Imagine her surprise when a gift this large arrives! Gift wrap is available for a small fee.
This 40' container was 39'4" long, 7'6" tall, and 7'8" wide inside. The container holds 2261 cubic feet of area (despite the figures displayed on the outside). That is about 84 cubic yards. In the business, ships are divided into 20' container units known as TEU (twenty foot equivalent units).
Want to rent one? $85 delivery to site/ $85 withdrawal from site
40' container for 4 months, $145/month with premium locks.



Thinking of buying?
~USD$1950 for a 40 footer, aluminum or steel

The Maersk Sealand website gives shipping prices online, Oakland to London in 25 days, with ships leaving every 10 days or so. Shipping opium may be illegal, check with laws and customs in your area.


On the left, you can see a screen shot of the software crane operators use to load the ships. Sometimes they are dealing with 5000 containers on a single ship.
The containers used for perishable items are called Reefer containers. They are great for shipping ganja, marijuana and hemp too.

Special features

Super Payload version holding up to 29.5 tons
Super Cool version maintaining a cargo temperature of -27°C/ -15°F
Dehumidification system ensuring the optimal humidity inside the container
Controlled atmosphere providing the optimal conditions, improving quality and shelf life
Environmentally-friendly CFC free R-134A refrigerant
Super Freezers capable of maintaining temperatures as low as -60°C/ -76°F


Jennifer measured the floor. She rolled her eyes when I asked the realtor if they were genuine hardwood.

A ship named Sovereign Maersk holds 3,300 of these long containers.
.

The price to deliver? Well, sending a 40' container of clothes from Long Beach California to Costa Rica costs about USD$2,427

To ship from Oakland to Belfast, Great Britain, it is USD$5,781

The 40-foot containers are usually stowed on deck. Refrigerated containers are stacked in special areas with electrical outlets. Light or empty containers usually travel on deck at the top of container stacks, so those containers you saw tumbling off the ship in A Perfect Storm were probably empty or filled with stuffed animals.
So, want to send some shoes to your friend in the Philippines? One 40' container can hold 12,384 shoeboxes. That is enough shoes for a fresh pair every day for 34 years.
Thinking of Importing some exotic Marlboro cigarettes? One 40' container can hold 55,511 cartons of filtered cigarettes!. That is eleven million cigarettes, enough to give a post-coital smoke to every adult in the Netherlands!


Thinking of inviting Mark Hamilton to your party? A 40' shipping container can hold 649 kegs!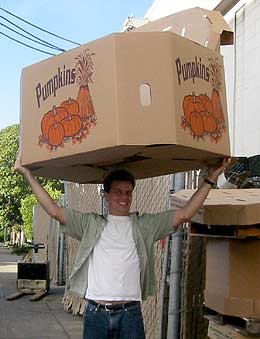 Want to ship some pumpkins? You could fit a hundred and four of these pumpkin boxes inside a 40' container. Just label it "cornucopia" and send it to Salem, Massachusetts!
Hooray for shipping containers!
Moving to Another Country with a Shipping Container