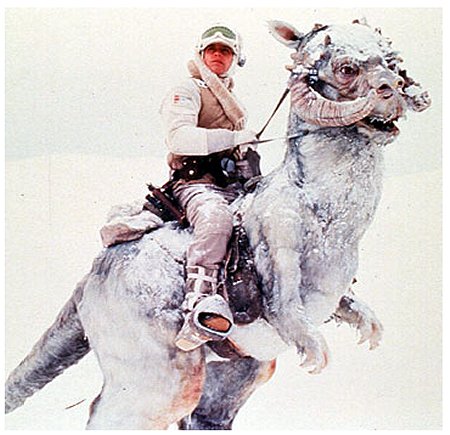 The following is a short Q&A with Scott Holden, maker of the "Luke Skywalker on a tauntaun" costume.

Before we got started, I wanted to address four technological innovations with his tauntaun costume:
1. Using tubes of silicone caulk to paint a mold directly onto the surface of your sculpture
I've only done one other mold before using liquid urethane, and wasn't really satisfied with the workability. I guess I was just scared of having the same experience if I tried liquid latex or anything else 'liquid'. Not to mention the cost of these items from the (not so) local supplier was breathtaking! I wondered about the tubes of Silicone caulking you could buy at Home Depot, and if anyone had tried it before.. An internet search yielded groups of people that were using the tubes, but were thinning it down using various solvents. It seemed like they were just trying to duplicate the 'liquid' medium that I was trying to avoid. After testing the technique on a small clay model, I pulled the trigger and bought a box of silicone caulking tubes. It worked surprisingly well! The consistency of the silicone straight from the tube allowed me to put an even coat over all the surfaces of the model, even upside down. Applying the silicone in long, overlapping bead-like passes took a long time,.. But the finished product captured all the detail of the model perfectly.
read Easy, Illustrated Instructions on How to Make a Cheap Silicone Mold with Ordinary Silicone Caulk
2. Using quartered PVC pipe.
Previous costumes I've made used the same kind of wire-frame body work. Home Depot used to sell these large (4'x8') sheets of PVC(?) that I could cut flexible strips from. Note the "used to". The only solution I could come up with was to take the 3/4" thin wall pvc that I bought and rip it through my table saw. 3 passes and I was left with narrow, but sturdy strips that would easily flex and conform to the shape I was looking for.
3. Making offset stilts
I wanted the costume to be as big as real life, which meant stilts were needed to achieve the height aspect. The Tauntaun, like a horse's back legs, have a dog-leg bend. I hoped to use some sheetrock stilts that I had but they were too 'vertical' looking. Thank god I work at a sheet metal shop. I designed some stilts in Solidworks, and had them built and welded at the shop I work at. One of the things I was really proud of was that they had little springs and pivots that allowed for independent heel and toe action.
4. Using snowboard bindings
I've found that when you use stilts in a costume you're not always able to reach your feet. So a couple years back when making a different costume I got the idea of using snowboard bindings. I just screw the clips into the bottom of some sturdy shoes, fasten the plates to the stilts and presto! No more blindly fiddling with straps and belts, they just click in. I also tied a little piece of twine to the release mechanism and ran it up the stilt to around my knee, so a little tug on the twine and your feet are free.