I've written about Costa Rica, Minneapolis and Istanbul, so I thought I should at least take some photos and report on my own city: Sacramento.
Sacramento is a medium-sized California city. It has a bunch of tall buildings, theaters, parking lots and a convention center downtown, with vast stretches of suburbia stretching East towards the Mountains. Situated 80 miles inland of San Francisco (the world's greatest tourist attraction), Sacramento is destined to feel like a second-rate tourist city.
It is a city of state government & trees. I think it is great, because not only can you find everything you need, but we are nicely situated near the San Francisco bay area AND real wilderness. The population is listed on highway signs as 369,000 people, but I've always heard the neighborhoods nearby contribute another 600,000 to bring the total up to a million for the greater Sacramento area..
Probably the first thing you will find is the California Capitol Building. They offer tours.

Back in January of 2001, a loony in a tractor-trailer hauling semi-truck crashed into the south side of this building with a load of canned milk. There was a big explosion. Sometimes I wonder if this is the attack that gave terrorists the idea for Sept. 11th.

Anyway, I went down to the scene of the crash and salvaged a can of milk. It is bent and charred...quite a gruesome souvenir.

He only killed himself, but the damage has been undergoing repair for more than a year. It should be completed in May 2002.

Inside the capitol there are little display cases highlighting each of California's 58 counties.
The Capitol building is in the middle of a smallish park, known as Capitol Park. There is a nice rose garden and a wide variety of Flora, but no baseball diamond.

There are statues and memorials scattered around the park, most notably the California Vietnam memorial.
Downtown Sacramento is set up like a grid. Streets running east-west are named after the letters of the alphabet, and streets running north-south are numbered from 1-30. First street is actually called "Front Street" and runs along the Sacramento River.

Here is a photo of the Cesar Chavez memorial, on the north side of his park, at 11th and J Streets. There are outdoor concerts here on Fridays during the summer, and there are homeless alcoholics there during the rest of the year, lending itself to be called "Jose Cuervo Park" by one wag.
"A" Street is on the north edge of downtown, and it sort-of runs along the American River. Once you get an idea of how this system works, you can easily navigate to the Spaghetti Factory (at 19th and J), Old Ironsides (10th and S) or the Federal Courthouse (8th and I). Running down the middle of downtown, where there should be an "M Street", is Capitol Avenue.

Many of the streets are one-way, which is annoying for newcomers, but workable.

Here is a photo of the iron arch between Old Sacramento and Downtown Plaza outdoor mall.
Here is a photo of one of the courtyards inside Downtown Plaza's Mall. There are department stores here.

This is where my great sculpture prank took place.
The first four blocks on the west-side of downtown (Front, Second, Third and Fourth) are known as "Old Sacramento", a State historical area. It has wooden sidewalks, gold-rush era storefronts, cobblestone streets and 12 postcard-shops. If you are a tourist, you should at least walk through one time.

Front Street is on the Sacramento River, where the Delta King paddlewheel riverboat is usually moored. This is a nice place to walk, particularly in the spring.
The most important feature in Old Sacramento is the California State Railroad Museum. It is at 2nd and I Streets, open daily from 10-5pm. I think it is US$4.
If you only go to one place in Sacramento, go here.
Train tracks in Old Sac 360 panorama
Speaking of railroads, Sacramento's Amtrak station is 3 blocks away at 4th and I Street.

A train to San Francisco takes about two and a half hours and is US$16.
There are big cats on the east side of the US bank building on 10th and I.

This is my favorite sculpture in Sacramento...maybe the whole world. They are sleek and stylized & you can sit with them.
This is the high-security post office at 8th and I Street. I think the Unabomber Ted Kaczynski sent a bomb from this office, so they have metal-detectors and grand security now. There is a beautiful art-deco interior, but it's a real hassle to actually mail stuff from. Oh, and they won't let you take a camera inside.
Speaking of the Unabomber, here is a photo of the Sacramento Federal Courthouse. There are entertaining quotes etched into the black diamond tiles of the courtyard.
Here is a photo of the pedestrian mall terminating at the Sacramento Convention Center. This area is sometimes teeming with people.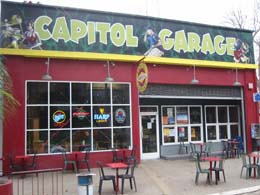 Here is a photo of Capitol Garage. I am frequently amazed by their ability to book big-name bands in this tiny cafe/bar.

This is one of Sacramento's hot-spots if you are aged 15-24. They face Capitol park at 15th and L Street.
Sacramento is the home of Tower Records & Books, and has an actual tower on Broadway and 16th. Under the tower is a alternatively focused theatre, and attached is the excellent Tower Cafe. The tower bookstore is across the street.

Broadway runs east-west at the southern border of downtown Sacramento...taking the place of "Z" Street. There is a section of the Capitol City Freeway suspended above nearby. It is called the "WX" by traffic reporters because it is runs between W and X streets.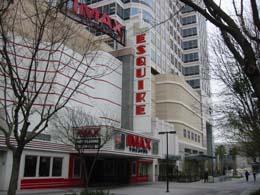 On the Convention Center end (east) of the K Street mall, the Esquire Theatre is now an IMAX theatre.

The other side of this building has an incredible blue light that you can see from all over downtown Sacramento.
Sacramento is a hub of California Freeways, but this can make it tricky to get from place to place.

Hopefully this illustration will help you out.

See how the star in the middle is in a little rectangular area bordered by freeways?

That little rectangle is the part with the streets A-Z and 1-29.

Cal Expo is about where the second letter W is in "downtown" on that map.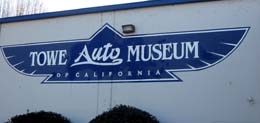 The Towe Auto Museum is a Sacramento Attraction that I hear about all the time but have never bothered exploring.
I just kind of leaned inside for this photo. They have about a hundred and fifty cars in there.
Here is the incredible tile mural on the Office Depot on J Street around 17th. It is only about a year old.
If you like decorative tile, you should also check out the Dragon house at 22nd Street and 3rd Avenue. The windows are etched or filled with stained glass too. I'm guessing Faberge lives there.
Here is a photo of the Downtown Sacramento Skyline from freeway level.
Here is the giant mural on the Profound Sound building on 19th and N St.

This one is really beautiful, eye-catching and detailed.
Did I mention the freeways already? This sign will direct you out of town as you get to Arco AM/PM Gas Station at 29th and J Street.
This is a really large sculpture on the side of highway 80 near Roseville, California. It is called "Cosmos".
Here is a photo of Arco Arena, home to the Sacramento Kings. The Arena is located about halfway between the Downtown Star and the Sacramento Airport on that map above.

It is surrounded by tracts of land that are finally being filled with housing after years of sitting vacant.
Even further West from Old Sacramento is West Sacramento, which I like to call "Ancient Sacramento".

West Sacramento has a giant ziggurat on the river. I don't know what company is in there, nor do I know who is buried inside. But it looks nice when it is lit up. They used to use torches back before electric lights were invented.
Tower Bridge Near Old Sac, 360 panorama
For some reason, there are about 34 cheap hotels in West Sacramento. I guess there used to be a hell of a lot more conventions in Sacramento or something. Perhaps I need to study my ancient history.

This Coliseum in West Sacramento is called Raley Field, home of the Sacramento River Cats. Since they made gladiator fighting illegal, they just play minor-league baseball here.
Here is where the West Sacramento Sphinx is being constructed. That isn't the real name, but it's what everyone is calling it until the new name is voted in.
This is Crocker Art Museum, a Sacramento fixture since 1873. It is an expanded Victorian mansion with a good, early California paintings and other works. This is where I met Dale Chihuly back in 2001.
This St. Mary mosaic is on the outside of a church that faces Southside park (around 10th and V Street).
Here is a photo of Coffee Works, a great, locally owned cafe at 34th and Folsom Blvd. They roast their own coffee & many of the counter people are friends of cockeyed.com.

There is a woman's clinic across the street, so on the odd Sunday there are pro-life protesters with signs and costumes across the street. You can feel the anger all the way across the street at these outdoor tables.

Folsom Blvd is the name that Capitol Avenue has when you get East of 30th Street. Folsom Boulevard goes another 15 miles east from here.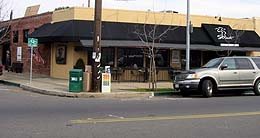 A block away is the swankier 33rd Street Bistro. Really good food, cozy & therefore small.
Behind this scaffolding is Cafe Bernardo, a nice little lunch place on 27th and Capitol. Busy, but I have never had to wait for a table there. Next door on the corner is the Monkey Bar, where Mark and I used to hang out 3 days a week. It is nearly a yuppie place, but still fun, with a good jukebox.
Here is a photo of Amarin, a very cheap Thai place on 13th and I Street. Great food here, near the Memorial Auditorium.
Here is a photo of the door to Sutter's Fort, a state historical park at 27th and L Street. This is Sacramento's earliest settlement, founded by John Sutter in 1839. Sutter was trying to build a little satellite version of a Swiss town, so he called his settlement New Helvetica.

His plans were wrecked when gold was discovered at the mill his friend was building nearby. Suddenly people were charging in from all over the place, trampling through his proto-utopia to get their greasy hands on that gold. It must have been pretty disappointing.
Inside the fort they have demonstrations and historical re-enactments in the little carpenters, blacksmith, bakery and gunsmith shops. On the day I visited, they had a cannon-firing demonstration. Bonus.
In the same block as Sutter's fort is the California State Indian Museum. This is where I met Ranger Joann when I was trying to make fire with two sticks. It is only a dollar to get in, and they have a nice collection if you are interested in the life of Native Americans.

There are no slot machines inside, however.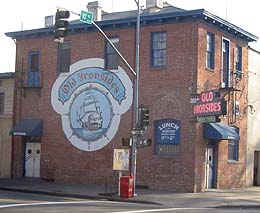 Here is a daytime photo of Old Ironsides, the bar where Sacramento's fine nightclub "lipstick" is held on Tuesday nights. Yeah, it is on Tuesdays, but since there is NOTHING else happening on Tuesday, it is usually pretty busy. If you are good-looking, aged 21-28, and you can dance, this is the place to be.

Old Ironsides is host to bands on Friday and Saturday night too, but they charge around US$7 for that.
Speaking of music, here is a photo of the Beat, a large used record store on J Street and 17th. They have a little cafe with listening stations too.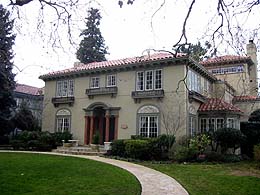 Just East of Downtown Sacramento, on the streets numbered 40-49, there are a bunch of elegant large old houses. These blocks are called the "fab fourties". This area is one of the nicest in Sacramento, particularly beautiful when bedecked with Christmas lights.
Here is a shot of the tree-lined 43rd Street. Nice eh?

Sacramento has a tremendous number of Victorian houses downtown, and further east in a section of Sacramento known as "midtown".
Here is a photo of the Boardwalk, a place I have always thought of as being host to death-rock bands.

It is in Orangeville, West of Sunrise on Greenback Lane. If you want to see a band with "Skull" or "Thorn" in the name, try going here.
Here is a the Victorian that is Sacramento's International Youth Hostel. It was just re-located to 10th and H St. when I took this photo, but I am sure it will reopen in time for the Summer, 2002. I've never stayed here, but it sure looks nice compared to some of the garbage-pit hostels I have stayed in.
Here is a photo of the sign designating Sacramento's University, California State University, Sacramento. Many of my friends went to this U. Their mascot is the Hornet.

I think the number one complaint I hear is that it is impossible to get classes when you are a sophomore. That is probably true at any university, though.

The University of California at Davis is about 16 miles west of Sacramento. That's where my Brother Mike got his degree. Brooke, Jane, Solid and Stephanie go there too.
If you visit Sacramento, your best bet is to rent a car, because the ride from the airport alone will cost you US$27. However, we do have an extensive bus system.

Put your US$1.50 into the box at the front of the bus and sit wherever you want. The drivers don't have change.

Weekends and Holidays are disappointing times to ride the bus, because you will usually have to wait for a long time.
Sacramento also benefits from a nice light-rail system that runs through downtown. There is only one line at the moment, but the new stretch out to Sunrise Blvd. should be finished by Fall 2002 & the expansion to the south area looks almost finished too.

You have to buy your $1.50 ticket before you get on. The tickets are on sale at every station, but the bill-changer is only operational about half the time.
One of my favorite places to get a cheap sandwich is the Bon Air market on 26th and J street.

They have this gigantic cartoon menu board with a bunch of zany sandwiches. I can't recommend ordering them, but their normal "Roast Beef and Cheddar" or "Turkey and Provolone" are super.

If you are tempted to just get fast food while you are in Sacramento, go here instead and you will be better-off.
Here is a shot of the "samson" sculpture in Sacramento's International Airport. The airport is about 10 miles out of town, with terminals for Western, Southwest, Alaska and other airlines.

A taxi to the downtown convention center costs about US$27. Watch the rates on Sacramento Taxicabs. Some start at $2.80 and others start at $5, so go ahead and read the door panel like Felix Unger. A shuttle van is US$11 per person, but takes a bit longer. For the thrifty, a US$1.50 will get you on board the #42 yolobus. It comes by once or twice an hour and travels to Davis, Woodland and downtown Sacramento.
More Pixaround 360 Panoramas:
Additional Cockeyed.com Sacramento Stuff:

The Comprehensive Street Photography of J Street and P Street in Downtown Sacramento.

Sacramento's Drive Thru Menus