Microwave vs. Stovetop Melt-Off!
For most of my life, I've enjoyed the luxury of a gas range. However, I now live with an electric stovetop, which is a whole new ballgame.
On Thursday evening, I conducted a little experiment with two similar chunks of ice.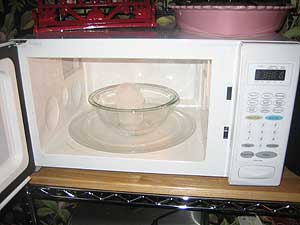 The first chunk of ice was placed in the microwave oven, at HIGH power. I set the timer at 45 minutes.
The second chunk of ice was melted on the stovetop, with the power set to HIGH.
Both heaters were activated at the same time, and the RACE WAS ON!

Shooting Free Throws | cockeyed science club | cockeyed home | Contact Rob |

January 30, 2006

Terms and Conditions Copyright 2006 Cockeyed.com