The last week was July 7-13: Arrival in London, England
Return from Hastings to London, England
Wednesday, July 14, 1999
Today Helen's father arrived from California. The Shamises are gathering in England for a wedding on Saturday. We went to Brighton, a larger seaside town, a bit like Berkeley, California, but without all the beggars. There were a ton of little shops and cafés. Helen and Tara concentrated on the shoe shops. We finally found internet access at a mail-boxes etc. and I almost caught up on email. Unfortunately we were working on Macs, so I couldn't upload new content to my website (they had external floppy drives attached, but they didn't have the FTP software I understand). I suspect that some of my mail is being collected off of the server when Leif checks the mail at home, I have to call him to check. Ken wrote for me to tell Tara to smile in the pictures, and to remind me to get myself in some of the photos.
Helen and Tara posed on Dyke Street, and I asked a small group of smoking kids for their picture. The city shut down at 5:30, and we headed back to Hastings for dinner. We went back to Safeway after dinner to buy hair lightener for Helen. The supermarket closed at 10 pm, so we had to hurry. We bought flowers for Helen's mom.
Thursday July 15, 1999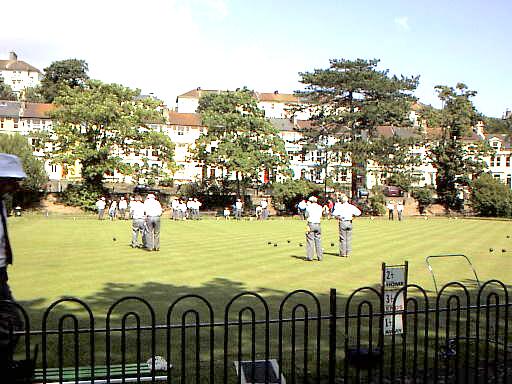 On Thursday we discovered the forest trail behind Helen's house in Hastings. I was shocked. It was like being in Mendecino, just 3 blocks from the house. A densely wooded area bordered both sides of a small stream that ran along the backs of the houses on the block. We followed the stream along for about a half-mile until we reached a park, then it was just a bit further to Safeway. We bought far too much to lug home, so we phoned Helen's mom to come and pick us up. I worked on the journal for about an hour, then went for a second walk with Eric. Helen visited with her goddaughter and Tara slept.
Friday July 16, 1999
Woke up late and barely made it to train station to depart for London. It was a pleasant 90-minute ride. We enquired about a room at the Thomas Cook "accommodation" kiosk. Not having a place to stay the next night is unnerving for me. So far it has been unwarranted fear, but I hope to get better at it in the future. We had trouble getting a 4-person room, so we elected to get a triple and just cloak-and-dagger it, even though the man on the phone at the hotel was insistent that he would find out and we would be in trouble. We checked in, making Helen wait outside until we checked in. She didn't have a backpack, and was dressed like a businesswoman, so it was easy for her to walk right in after us.
We took the bus to Knightsbridge for some department store shopping. Helen and Tara wanted to stay at Harrod's big sale until 7pm, but Eric wanted to visit the 4-story Doc Martin Depot in Covent Garden, so we split up and agreed to meet back at the room at 8. Covent Garden was a large outdoor market, with some street performers, including a woman escaping from a straightjacket. The Doc store was closing 15 minutes after we got in the door, but Eric put on a burst of speed and made it out the door with the grandfather of all Doc Martins, black 20-eye steel-toed boots. Amazingly, Helen and Tara beat us back to the room. Helen and Tara got decked-out for a club, and Eric and I did what we could. Our goal in London that night was "the fridge" a giant club in Brixton (southeast London). To kick the night off, Tara showed Helen the Candy Bar, and Eric and I went to an internet café, then a little pub nearby.
The trains were running just long enough for us to get out to Brixton, so we got moving after the pub closed at 11. We were all enjoying this beautiful night in London. Helen was her usual flamboyant self, and although she was keeping us energized, I was already having doubts about our ability to stay up until the early morning. We spotted 200 people in line before our fears were realized; they too were waiting to go into the fridge. We watched a band of performers juggling and swinging flaming sticks in line. I had to pee, and I could tell it was going to be 45 minutes before we went in. I hate that feeling. Maybe you can relate. To make a long story short, I talked them out of it. Tara didn't want to spend the money, and Eric had to pee, and Helen had already gotten enough of the groove out of her blood to pass on the Fridge.
We found a funny Chicken place, called Kings Fried Chicken, but the doors were electronically locked so that only customers could use the bathroom. I went to order something. When I came back around the from the ordering area, Tara and Helen were smiling and exclaimed that if you just push really hard, that the doors pop open. It worked! Actually, to push didn't really do it, you kind of had to kick the door to really get it to pop open. I peed.
To wash my hands, there was a steel all-in one machine: It dispensed soap, sprayed water, and then blew air onto your hands in a birdhouse-shaped cubbyhole. It didn't work worth a shit, of course, and sprayed water with a bit too much vigor, and for too long. In fact, when I left the bathroom, it was still spraying.
Overjoyed at having cracked the door puzzle, Helen and Tara told everyone that came over to the bathrooms how to open them. Some people kicked with vigor! Some people had to be shown how to kick properly by Kick-Master Helen and Karate Tara. By the time I had finished my chicken, the management was addressing us. It was getting late, so after a quick visit to a bagel shop, we hopped on a night bus back to our hotel.
Cars in London
I absolutely love the wacky variety of cars in England. Last week I took a quick survey of the cars parked along our block to try to give you an idea how they stack up to a block of American cars. Here's what I found:
Mercedes Sedan, Vauxhall Astra GL, Mercedes SUV, Vauxhall Vectra D1, Volvo 740SE, Proton LE, Mercedes Sedan, Volvo sedan, Nissan Sunny, Renault Laguna, VW Golf Driver, Toyota Previa Van, VW Sharan Van, Skoda Favorit, Ford Sierra, BMW Sedan, Mercedes Sedan, Daihatsu Charade, Ford Mondeo, VW Sedan, Renault Laguna, Ford Escort, Mercedes Sedan, Peugeot Sedan, Toyota Corrola, Rover Sedan, a BMW and an Audi.
Saturday July 17, 1999
On Saturday morning we woke up and had to rush to all get showered and ready before 11 o'clock check-out. The hotel had been hot all night long, and we were all grouchy from lack of sleep. We said good-bye to Helen, who was off to Victoria Station to catch a train to that wedding.
I was already nervous about how busy the hostels and hotels would be on a Saturday night, but it only took a few phone calls to discover room at the Rotherhithe Hostel on the east end of London. We took the underground and by the time we checked in, it was almost 2.
This hostel was more professionally operated than the last one, and it was bustling with families. It was designed like a dormitory, with a space-age bunk arrangement. In fact the whole place was well designed.
On the bus into downtown we drove past news-vendors with the JFK jr. story in big headlines.
We spent the day on a long street lined with vendors; the Portabello Market. It was very very long, like Thursday Night Market in Sacramento times fifteen. Unfortunately, a lot of the shops and vendors were just the same old banana/avocado/tomato fruit stands, the socks/underwear table or London tourist crap merchants. A few stood out, like the olive stand, and the magnifying-glass guy. After a few hours of this, we took a train back to Queensway, and set up lodging for the next few nights, in a hostel built for 20-somethings. We ate pub food nearby, and headed home early. Rotherhithe was pretty sterile and boring, but we were too tired to trek back to central London, so we just talked. Eric and I met a guy from Guinea, who encouraged us to get Internet jobs in Africa, as American employees are in high demand, and garner large contracts. He gave us his business card. We also met an American woman in the t.v. room who went to UCDavis. She told us she was a commodity broker that was restricted from trading in the US because of some mis-dealings she had had. She gave us lots of information about working in the UK, and gave us more "they love American workers" encouragement. She seemed normal enough at first, but became more and more freaky as the conversation went on. Finally she spotted Tara's book on Buddhism and the realization that at least one of us was a heathen made her practically run out of the room. We went to sleep.
Sunday, July 18, 1999
Rotherhithe was booked full for Sunday night, but we weren't at all sad to go. We went back to the first neighborhood we stayed at, and found a room at the Hyde Park youth hostel. Free from our weighty charges, we headed directly for the Camden Market Street fair. The highlight of that market was Cyberdog, a well-decorated shop specializing in the funky clothes Tara was rabid for.
"This place is like crack for me", an over-excited Tara exclaimed when Eric and I started pulling her out of the shop.
She got a supreme Cyberdog jacket, the likes of which Sacramento has never seen...UNTIL NOW!
This second-straight day of market shopping was making me grouchy, so when we got home, we made some plans on how to spend the next few days. We had 3 more days to stay in London, because we had tickets to Tricky on Wednesday. We decided to venture to Stonehenge Monday, see a drum show on Tuesday, and see more museums on Wednesday before the Tricky show. That decided, we celebrated with some Internet and beer.
Monday, July 19, 1999
Early Monday morning, the annual convention for Very Loud Korean Men had their opening ceremonies in our room. Tara was the 8th speaker, and her concise lecture on morning-time courtesy was received with quiet nods of submission. Eric finally got hold of Lisa on this morning, and Tara and I make him choose between meeting her and going to Stonehenge with us. He made the right decision, and met with Lisa.
Tara and I attempted to get passage to Salisbury, but the only bus trip we could catch would have only left us with 45 minutes to make it to the rock-circle before we had to come back. The train-ride was quicker, but twice as much. We decided not to go. It was a hard decision.
Because we were already out in Victoria station, we went to find easy-everything an orange and white internet super-node that had 400 terminals and sold access for only one pound per hour. This was about a fifth of what we had been paying elsewhere. We found it and were impressed. There were hundreds of little terminals, not unlike a telemarketing call-center, filled with key-tapping locals and homesick net-fiends such as ourselves. I was taking may very first photo when an employee told me about the policy against photographs. I took as many as I could. The place was big, three floors, with bank after bank of 17" flat-screen terminals. To best visualize the magnitude of this, imagine a movie theatre, filled with people online. If the machines had had floppy drives we might never have left.
We met two nice Londoners, Gemma and Xena, who you can spot in picture 5. They told us what clubs were good on a Monday night, and we agreed to meet them at one. Gemma has an interesting website about Sporty Spice being gay.
When we made it home, Eric wasn't there, so we went back to Cyberdog to return Tara's shirt. I convinced Tara that we should take a bus so that we could see the city on the way, since we weren't in a hurry. We went up to the top of the bus, and soon a camera crew was up there with us. Ken Livingston, the liberal candidate in the London Mayor's race was trying to talk to local voters about the bus system in London, but all he was finding was tourists. Tara pretended to be from London, and answered some of his questions on camera. It was pretty exciting, and I got a nifty picture.
That night, we finally caught up with Eric and broke the news to him about Stonehenge. He told us about drinking and reminiscing with Lisa. Tara went to meet Xena and Gemma at an underground station, and I got dressed, but we ended up crossing wires with Eric and leaving him home. I met up with Tara at the club and we had a good, cheap time at the club because it was the "£1.20" drink-special night.
Tuesday, July 20, 1999
We woke up late and did laundry. Next I went for a walk through Hyde Park on the way to get my hair cut. An adorable little girl was getting riding lessons in the park, but when I stopped to take a picture, I was chastised against it for the second time in as many days. I walked by the Iranian embassy and through a ritzy part of town by Albert's gate. I stopped by easy-everything for an Internet fix, and re-sold half of my internet time for 50p to a guy waiting in line. I think I was the first person to try this, because the people in line had that "can you DO that?" look on their faces. You buy a minimum of an hour, but I didn't see anything that forbade re-selling the time, so I did it, and I was very happy with the pirate transaction. Then, just 100 feet away, in the Victoria Underground station, I was offered a black-market all-day travel card for £2 (a £3.60 value) and I bought it. I was sticking it to the man in the UK today!
That evening we went to a Drum show at Queen Elizabeth Hall, and saw Taiko drummers and Kobayakawa Suigun, a very talented percussion duo.
We made it home fairly early and talked to Michel, a French guy who succeeded the Korean guys in our room. His English was terrible, but it was better than my French, so I began to worry about our future travels in France.
The next week is July 21-28: Scotland & Ireland | Index of Weeks



Back to main Cockeyed Rob@Cockeyed.com Eric Tara Last updated March 9, 2000. Copyright 1999 Cockeyed.com